Pelosi: Scalise Shows GOP's 'Bothersome,' 'Offensive' Attitude Toward Minorities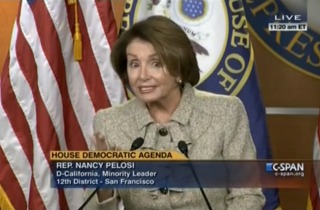 House Minority Leader Nancy Pelosi (D-Calif.) is continuing to blast the Republican Party following House Majority Whip Steve Scalise's (R-La.) admission that he spoke to a white supremacist convention in 2002.
"If you look at what Mr. Scalise said, in the context of no voting rights bill and no immigration bill, then you start to see an attitude," Pelosi said in an interview with The Huffington Post, referring to the House GOP's supposed resistance to restoring the Voting Rights Act and passing a comprehensive immigration reform bill. "And that really is bothersome."
Pelosi also said the "most eloquent" thing Republicans can do to improve their image to minorities would be to pass a voting rights bill.
Last month, Pelosi released a statement saying the Republican Party's "actions speak louder than whatever Steve Scalise said to that group in 2002," again citing the Voting Rights Act and comprehensive immigration reform. According to Pelosi, House Speaker John Boehner has not done a good enough job at "standing up to the most extreme elements of his party."
RELATED: CNN's Smerconish Confronts David Duke over Scalise: Was He There or Not?
Last week, Scalise addressed the controversy for the first time, saying he "rejects bigotry of all forms." White House Press Secretary Josh Earnest said that while President Barack Obama reserves judgment on whether Scalise should remain a member of the Republican leadership, "who they choose to serve in their leadership says a lot about who they are, what their values are, and what the priorities of the conference should be." Pelosi, in the Huffington Post interview, agreed that it is up to the Republicans to decide who is part of their leadership.
Politicians and pundits alike have been quick to chime in on the Scalise controversy.
[Image via screengrab]
— —
>>Follow Andrew Desiderio (@forza_desiderio) on Twitter
Have a tip we should know? tips@mediaite.com