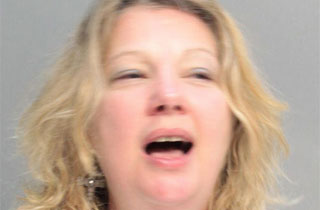 After what had to be an excruciating flight between Nicaragua and Miami, a Penn State Abington professor was arrested for smoking on a plane while ranting about America's oil war against Venezuela.
At some point during the flight, Karen Halnon, pictured to the left in that bonkers mugshot, went on a loud, long rant about American imperialism, yelling things along the line of "The United States has declared war on Venezuela" and praising her idol, the "great hero Hugo Chavez." She also lit up a cigarette — illegal to do on a plane — and, when informed that police would arrest her when they landed, declared "I am going to say my piece," and continued for two more hours before she was arrested and charged with disorderly conduct.
In an interview with CBS Miami, Halnon, an associate professor of sociology, insisted that she was doing something totally normal and speaking in her indoor voice. "I was speaking loudly, that's often interpreted as yelling when a woman speaks loudly," she said, adding that she just wanted to tell everyone on the plane about the plight of "not only the Venezuelans but the rest of the poor of the world that are constant victims of US military global domination."
And the smoking? Oh, that's just what revolutionaries do:
Halnon doesn't deny the lighting up, even though smoking is banned on planes.
"Yes, that was me and I was actually smoking a cigarette briefly. I took a few puffs out of it and then I put it out and then I joked that the guy next to me made me do it, but that was just a joke," she said. "Every other revolutionary smokes. Fidel, Daniel Ortega, Tomas Borge, Che Guevara, etc. And so that's one of the significance… to identify with a revolutionary spirit."
Okay.
Watch multiple angles of the rant below, via YouTube:


[h/t The Washington Post]
[Image via Miami Police Department]
—
>> Follow Tina Nguyen (@Tina_Nguyen) on Twitter
Have a tip we should know? tips@mediaite.com