Pentagon Spokesman To Reporters: Please Don't Publish "Stolen" Information Posted On WikiLeaks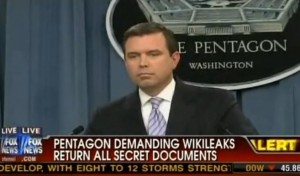 WikiLeaks, the electronic whistleblower that obtained and published nearly 77,000 classified reports about the war in Afghanistan this summer, now has its sights set on Iraq. The Associated Press's Anne Flaherty reports that the site's got "as many as 400,000 documents from a military database on operations in Iraq"—and that the Pentagon is already asking reporters not to publish them.
Though WikiLeaks EIC Julian Assange took to his Twitter yesterday to debunk rumors about an impending leak of Iraq documents—"Where do all these claims about WikiLeaks doing something on Iraq today (Monday) come from? A single tabloid blog at Wired Magazine! That's right. Over 700 articles, newspapers all over the world, and newswires fooled by a tabloid blog–and each other"—the Pentagon isn't taking any chances. As Flaherty writes:
Still, the military says its 120-person task force has been on high alert. The group has been reviewing the documents for weeks to determine what information might be compromised.

Marine Corps Col. Dave Lapan, a Pentagon spokesman, told reporters that the military isn't sure if WikiLeaks has shared the Iraq war logs with any news organizations. But, he said, media should not disseminate the "stolen" information even if it's already posted online by WikiLeaks.
ad_icon

"The concern is that WikiLeaks as an organization should not be made more credible by having credible news organizations facilitate what they're doing," Lapan said.
Assange, of course, is strongly opposed to what the Pentagon is doing. He wrote another tweet about the situation yesterday: "Rather than apologizing for misleading the press, the Pentagon tries bully it into not reporting." I'm leaning toward agreeing with Assange, though I can't wholeheartedly support the way WikiLeaks operates. Do you think the Pentagon's actions are justified—or that reporters should listen to the military rather than publishing these hypothetical documents?
Have a tip we should know? tips@mediaite.com