Aziz Ansari Promises To Kick Malaria In The Face And More In New "Comedy Fights Malaria" Campaign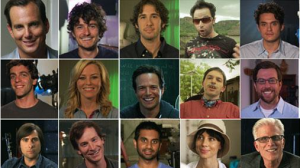 How do you get Americans to care about a horrible disease that they're likely to never see the effects of. Well, getting a bunch of very funny people together and just letting them talk is a good start. That's what the Malaria No More organization is trying with their new "Comedy Fights Malaria" campaign. They've gathered everyone from Ted Danson to Elizabeth Banks to Rob Riggle and made a series of videos that are as entertaining as the subject is serious. This quickly makes the videos about a 100 times more watchable than another "We Are the World" remake and will hopefully lead to more donations.
The videos are both funny and self aware. One shows The Office-stars Ellie Kemper and BJ Novak giving an onscreen countdown till they ask for money while complimenting the viewer as being a good person for continuing to watch. It's not just comedians standing in a studio however as a few feature the likes of Nick Kroll and Ed Helms travelling around Africa. The clips are funny as well though, as Kroll plays his Bobby Bottleservice character who helpfully explains that mosquitos carry malaria just like his ex-girlfriend carried gonorrhea. Obviously, it's not all laughs, but there's a high enough ratio to keep people watching watching more than their typical amount of PSAs.
From a press release:
"While the videos are funny and entertaining, Comedy Fights Malaria shows that the disease is no laughing matter – every 45 seconds, a child in Africa dies from malaria, but humor can keep malaria in the spotlight and in the conversation. Visit the links below for PSA's featuring Orlando Bloom, John Mayer, Ted Danson, Jeremy Piven, Ellie Kemper, BJ Novak and Ed Helms among others and let me know if you would like further information on the campaign. Please feel free to embed the links on your site or link to us on Facebook.

Fans and supporters are asked to "Like" Malaria No More on Facebook www.Facebook.com/MalariaNoMore and learn about how the world is working to end malaria deaths in Africa by 2015 while also checking out exclusive content from the campaign and seeing how they can be a part of the victory against the disease."
Comedy for a good cause is nothing new (see: Comic Relief in England and this Thursday's Night of Too Many Stars on Comedy Central) but that doesn't make the Comedy Fights Malaria campaign any less fun. Check out some of the videos below:
Have a tip we should know? tips@mediaite.com