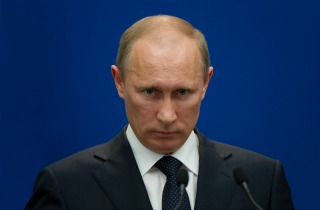 USA Today has obtained a 2008 Pentagon report that claims Russian President Vladimir Putin suffers from Asperger's syndrome. The alleged "neurological abnormalities" affect "all of his decisions" as president, according to the report.
While autism experts were consulted, researchers could not authenticate the claims without performing an official brain scan on Putin. Dr. Stephen Porges, an autism specialist who was cited in the 2008 report, told USA Today that he never saw the final report and would not quite embrace the Asperger's charge. Rather, says Porges, Putin's "behavior and facial expressions reveal someone who is defensive in large social settings."
The report was conducted by Brenda Connors at the U.S. Naval War College in Newport, R.I., which was contracted by the Office of Net Assessment (ONA). The ONA is an internal Pentagon think tank that helps to plan long-term military strategies. USA Today obtained the report through a Freedom of Information Act request, and it is not known whether Pentagon or Administration officials acted based on the report.
Appearing on MSNBC Thursday afternoon, former U.S. Ambassador to Russia Michael McFaul told Andrea Mitchell that he was not sure if the report was classified or not.
"Well I don't want to talk about things I shouldn't, because I don't know what's classified and not," McFaul said. "Of course we were deeply interested in all kinds of information about all leaders around the world."
McFaul added he could not verify whether the report that Putin has Asperger's syndrome is actually true, but said he and his colleagues were interested in Putin because he did not often meet with world leaders.
"We didn't have a lot of interaction with him, so we were often guessing and we tried to use whatever information we could obtain," McFaul said.
You can read the full USA Today report here.
Watch the video below, via MSNBC:
[Correction: This post previously identified the MSNBC guest as Michael McCaul. His name is Michael McFaul.]
[Image via Shutterstock]
— —
>>Follow Andrew Desiderio (@forza_desiderio) on Twitter
Have a tip we should know? tips@mediaite.com