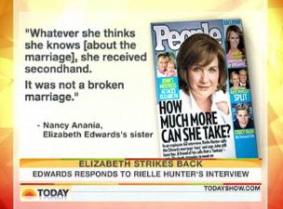 Every single person involved in the John Edwards story is awful.
But People magazine is still Team Elizabeth, and gets Elizabeth Edwards' PR team's spin reaction to the GQ Rielle Hunter interview. And the Today show dug deeper.
People reports John and Elizabeth officially split in January, and she was "just beginning to move on with her life when she read GQ's explosive interview with Rielle Hunter this week." And what did she think? Well "friends" said she was "disgusted" but "still went about her day as usual."
Meanwhile Hunter seems to have recanted a bit on her own personal outrage over the GQ pictures and reaction, telling NBC News in a statement "I understood what photos were being taken" and "I stand by this interview." Either way, that whole "quiet dignity" thing appears to officially be a thing of the past.
And what about Andrew Young, who likes making cable TV appearances whenever he gets a chance? Norah O'Donnell reports he has "just signed with top Hollywood agent Ari Emanuel…who wants to turn his story into a movie." Of course.
And look, Elizabeth Edwards has gone through a lot, but all you have to do is look to Game Change to get the feeling this People story has the making of a comeback for Elizabeth – and frankly, maybe even John Edwards.
There's two Americas, folks, and in one America John, Elizabeth are teaming up with Rielle to put John Edwards on the 2016 presidential ticket, while Andrew Young thinks he's going to be a star. Luckily, most of us live in the other America.
Here's the Today segment:


—–
» Follow Steve Krakauer on Twitter
Have a tip we should know? [email protected]