Photographer Who Took Skittles Pic Trump Jr. Used Speaks Out (And Happens to Be a Refugee)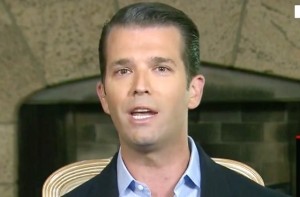 As the debate continues over the Donald Trump Jr.'s questionable Syrian refugee metaphor, he is now coming under fire by the photographer who captured that image of a Skittles bowl.
Donald Trump's son drew quite a few accusations of insensitivity last night when he compared the refugee crisis to a bowl of poisoned candy. David Kittos is a photo artist based in Guildford, UK, and as a former child refugee, he told the BBC that that he condemns Trump Jr. for using his photo this way, and without his approval.
"I have never put this image up for sale. This was not done with my permission," Kittos said. "I don't support Trump's politics and I would never take his money to use it."
Kittos, who is now a British citizen, came to the United Kingdom in 1974 after he and his family fled the Turkish occupation of Cyprus when he was six years old. Kittos says he is unsure whether he will file a legal complaint over his photo's misuse, but he would instead like to see the Trump campaign do away with the image on its own.
"They are probably not interested in what I have to say," said Kittos. "This isn't about the money for me. They could have just bought a cheap image from a micro stock library. This is pure greed from them. I don't think they care about my feelings. They should not be stealing an image full stop."
Wrigley, the candy company who produce Skittles, also put out a disapproving response to Trump Jr. today, stating "Skittles are candy. Refugees are people."
[Image via screengrab]
— —
>> Follow Ken Meyer (@KenMeyer91) on Twitter
Have a tip we should know? tips@mediaite.com