Photos Reveal Bin Laden's Compound Sits In A Lush, Touristy Suburb Of Pakistan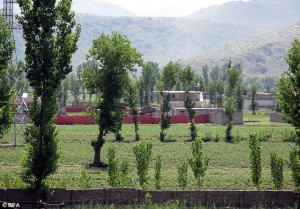 Many Americans (judging from the general reaction on, say, Twitter and Facebook) expressed surprise last night after it was announced by President Barack Obama that terrorist leader Osama bin Laden had been found in a massive "mansion" in a suburban area of Pakistan several miles outside of Islamabad. Now, pictures from the site of his death reveal that – while large and lavish – the facility where bin Laden was living with his youngest wife, Amal al-Sadah, his son and two of his brothers was really something more of a compound shielded from the outside world – while still being quite close to its neighboring homes.
Hidden by trees and bordered by a mountainous region, the compound – valued at a cool $1 million – is surrounded by high walls dotted with barbed wire. The structure is three stories high and about eight times the size of surrounding buildings, with few windows facing the outside, and no telephone or internet service.
Photos from the U.S. raid on the compound reveal a massive king bed – now covered in blood – as well as wardrobes left open during a search for any other who may have been hiding in the home.
Britain's The Daily News has images from the aftermath of the attack, as well as a description of how it all went down:
During an operation in which troops were on the ground for just 40 minutes, they stormed the terror chief's hideaway.

Four helicopters took part in the attack on the two-storey house, which is understood to be within 100 yards of a military building in Abbottabad, a garrison town which is home to thousands of Pakistani troops.

According to Pakistani officials in the town, fighters on the roof opened fire with rocket propelled grenades as the aircraft came close to the building. Pakistani officials and local people said one of the helicopters crashed.
The discovery of this compound is now bringing up questions regarding whether the Pakistani government, an ally to the U.S., was somehow aware of bin Laden's whereabouts in their country. Furthermore, Abbottabad, the town where the compound is located, is apparently within "100 yards of a military building" in an area that attracts many tourists.
Check out images from the compound, via The Daily Mail and ABC:
Gallery unavailable
Have a tip we should know? tips@mediaite.com