Playboy To Pull A Willy Wonka, Hide Golden Tickets To Mansion Party In Latest Issue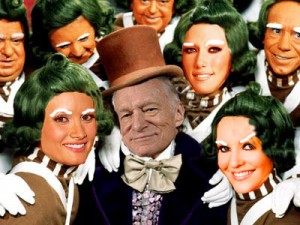 This is the kind of promotion that, once you hear about it, you're shocked it's never been done before. Playboy is turning Hugh Hefner into Willy Wonka by hiding "golden tickets" in 10 copies of the latest issue, out this Friday. The tickets will enable the lucky finder to go to a party at the famed Playboy Mansion, something that is very, very important to most heterosexual men born before the year 1990 or so.
From Reuters:
"'This is the first time we've literally swung the doors open' to the public, Playboy editorial director Jimmy Jellinek told Reuters. 'The average reader will go home with stories they can't tell their wives and girlfriends but will last forever.'

Jellinek said he dreamed up the promotion one day when he was thinking about Wonka, the eccentric candy maker of Roald Dahl's children's book 'Charlie and the Chocolate Factory.'

Wonka, of course, hides five golden tickets in the wrappers of chocolate bars, and kids around the world search for them in order to win a trip to his mysterious candy factory.

'Hef thinks of this as a golden dreams ticket,' Jellinek said.

Not only will the winners get into the mansion, Playboy is flying them to Los Angeles, putting them up at the posh Petit Ermitage hotel and paying for dinner at upscale restaurant, Simon LA."
Wow, not only might this be the only time any of us normal people get to wander around and be too shy to talk to any of the models, it might be one of the last times anyone gets to. As the A.V. Club points out, there have been reports that the magazine's financial trouble might lead to them selling the famous mansion, thus killing the childhoods of millions of American men.
Whatever the case, this next issue should sell a hefty amount. While we wait for it to come to newsstands this Friday, we'll be left to imagine the wondrous times we might have if we find one of those tickets. And also, ask one important question: does this mean Larry Flynt is Slugworth?
Have a tip we should know? tips@mediaite.com