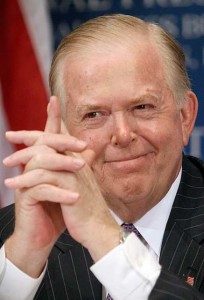 Former CNN anchor—and regular guest on Fox News and Fox Business—Lou Dobbs will have a new home on the Fox Business Network starting in 2011. He'll host a new daily program for the young business channel and make regular appearances across many FBN shows. Joe Flint of the Los Angeles Times has the scoop:
It's the latest high-profile hire for the cable network, which launched a little over three years ago and is in 57 million homes. Although that is far fewer homes than its chief rival, CNBC, Fox Business last week managed to beat CNBC on election night, both in viewers and the key adults 25-54 demographic.

When Dobbs left CNN last November after clashing with management there, he said some leaders had been urging him to "go beyond the role at CNN and to engage in constructive problem-solving as well as to contribute positively to the great understanding of the issues of our day."

At that time, there was speculation that Dobbs would seek some sort of political office. He had become something of a lightening rod on several issues, most prominently illegal immigration. It was his commentary on that topic that often led to fights with CNN brass, including Jon Klein, who was then president of CNN's domestic operations.
In a statement, Dobbs said that he's "excited and feel[s] privileged to join the great team that Rupert Murdoch, Roger Ailes and Neil Cavuto have created, and I can't wait to make whatever contribution I can to Fox Business."
Have a tip we should know? tips@mediaite.com