Police: Ohio State University Attacker Was Somali Refugee Abdul Razak Ali Artan (UPDATED)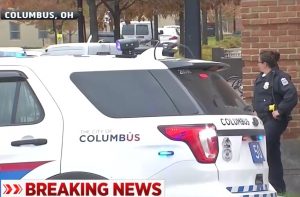 NBC News reports citing multiple law enforcement sources that the name of the Ohio State University attacker is Abdul Razak Ali Artan.
Police sources also say that Artan, who went on a stabbing and vehicular rampage on Ohio State University campus Monday, was a Somali refugee who was enrolled at OSU as a student. Artan was shot and killed on the scene.
NBC's Pete Williams first reported on MSNBC that police "believe the person who was shot and killed who was responsible for the attack… was an 18-year-old student of Ohio State, a lawful permanent resident of the U.S. who came to the United States as a Somali refugee."
Other reports say that Artan was 20 years of age, not 18. Local Columbus station 10TV reports that the car used in the attack was registered to a Muhammad Ali, leading to some erroneous reports that Ali was the name of suspect in question.
Columbus, Ohio has one of the largest Somalian-American communities in the U.S. The Somali Community Association of Ohio estimates that more than 38,000 Somali immigrants live in the greater Columbus area, the second largest concentration of Somali refugees in the country.
UPDATE (3:03 PM ET): Updated with the name of the shooter.
UPDATE (3:53 PM ET): NBC's Pete Williams reports that the suspect came to the United States in 2014. Also, his age is now being reported as 23 and it is unsure if he's an OSU student.
NBC Pete Williams: OSU suspect came to U.S. in 2014 as Somali refugee. Suspect left behind a message.

— Jeff Darcy (@Darcycartoon) November 28, 2016
NBC Pete Williams now reporting OSU attacker was 23. Legal Somali refugee who lived near campus. Uncertain if he was an OSU student.

— Jeff Darcy (@Darcycartoon) November 28, 2016
UPDATE (4:30 PM ET): Per a press conference today at Ohio State University, the attacker was revealed to be 18-years-old and a freshman at the university. His name was confirmed to be Abdul Razak Ali Artan.
UPDATE (6:10 PM ET): Ohio State University's student paper did a profile on Artan earlier this year:
From the archives: Ohio State attacker featured in 'Humans of Ohio State' https://t.co/OjucYxXcZo pic.twitter.com/0BSYW9Vy81

— The Lantern (@TheLantern) November 28, 2016
Watch above, via MSNBC
[Image via screengrab]
—
>>Follow Alex Griswold (@HashtagGriswold) on Twitter
Have a tip we should know? tips@mediaite.com