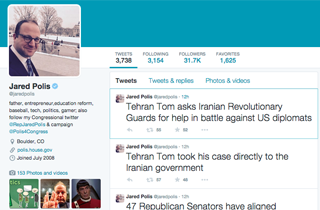 Recently, 47 GOP senators sent a letter to Iran threatening to undo any nuclear deal that they would possibly hammer out with the Obama administration. The letter caused the Iranian government to declare that they could not trust the US, imperiling the negotiations and threatening to implode the process. And much like an actual nuclear bomb, the entire mass of the political world was converted into pure destructive energy, measured by megatweets from prominent politicians from all over the spectrum.
It's also being measured in actual political statements, notably from Republicans as well as Democrats opposed to the Iran negotiations. Notably, Senate Foreign Relations Committee Chairman Bob Corker (R-TN) did not sign the letter, believing that it would undermine his efforts to create a law requiring the deal to be approved by Congress, with a veto-proof majority. "I knew it was going to be only Republicans on [the letter]. I just don't view that as where I need to be today," Corker said to Politico. "My goal is to get 67 or more people on something that will affect the outcome."
"I don't think that the Ayatollah is going to be particularly convinced by a letter from members of the Senate, even one signed by a number of my distinguished and high ranking colleagues," Sen. Susan Collins (R-ME) added.
And then there were these furiously-worded tweets:
Tehran Tom took his case directly to the Iranian government

— Jared Polis (@jaredpolis) March 10, 2015
Tehran Tom asks Iranian Revolutionary Guards for help in battle against US diplomats

— Jared Polis (@jaredpolis) March 10, 2015
.@VP Biden owes @SenTomCotton an apology. He wore the boots in Iraq. He's earned our attention, not your insults.

— Gov. Bobby Jindal (@BobbyJindal) March 10, 2015
Anyone thinking of running for Prez, on both sides, should sign on to the letter to make clear that Iran is negotiating w/ lame duck Prez.

— Gov. Bobby Jindal (@BobbyJindal) March 10, 2015
They now apparently want a war in Iran as well: http://t.co/qB3gvoDJyT

— Bernie Sanders (@SenSanders) March 10, 2015
Republicans are undermining our Commander-in-Chief while empowering Iran's hardline ayatollahs.

— Senator Harry Reid (@SenatorReid) March 9, 2015
Republicans don't know how to govern, but they do know juvenile political attacks. They're undermining our Commander-in-Chief out of spite.

— Senator Harry Reid (@SenatorReid) March 9, 2015
Asked Marco Rubio about Cotton letter and told me he'd "send another letter tomorrow" because threat of #Iran is so great.

— Luke Russert (@LukeRussert) March 10, 2015
[Image via screenshot]
—
>> Follow Tina Nguyen (@Tina_Nguyen) on Twitter
Have a tip we should know? tips@mediaite.com