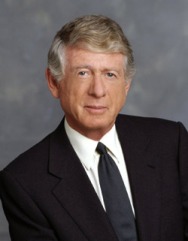 Ted Koppel has been offered ABC's This Week job, reports Politico's Mike Allen 'exclusively' and definitively this morning.
Except, the story has already changed – and ABC News President David Westin has delivered a strong smackdown of Allen's rushed "reporting".
The current story says, "ABC News is negotiating with 'Nightline' founder Ted Koppel, a 42-year veteran of the network, for a potential return to anchor 'This Week' three Sundays a month."
But less than two hours ago, the story was much stronger. Allen had been reporting "ABC News is offering Ted Koppel $1 million a year to anchor 'This Week' three Sundays a month." Now that information is gone, replaced with "ABC News executives said no offers have been made." Thanks to the medium of the internet, and not say, newsprint, Allen's scrub has disappeared into the abyss, never to be heard from again. It still exists in email form, though, since it was part of Allen's Politico Playbook this morning.
Also added to the original report is an email comment from ABC News President David Westin, which sounds like a typical PR comment ("I will not comment on the specifics of whom we are and whom we are not talking to") but closes with this sentence:
I will pull back the veil to the limited degree of telling you – for the benefit of your readers – that just about every specific that you have is false.
Ouch.
While certain parts of the story have been wiped away, other incorrect information remains. Allen writes "Koppel is currently the Discovery Channel's managing editor and anchors 'Koppel on Discovery,' a series of long-form programming." Except Koppel left that gig in November 2008. Now he serves as an analyst for NPR and BBC America.
None of this means Koppel will not be the next This Week anchor. However my money is still on Nightline's Terry Moran, and Jake Tapper is a viable possibility. Let's hope whoever eventually takes over the job spends more time getting the facts right before throwing around words like "exclusive."
—–
» Follow Steve Krakauer on Twitter
Have a tip we should know? tips@mediaite.com