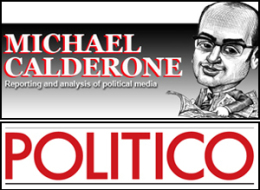 Politico's media analyst Michael Calderone offered his farewell column yesterday just as FishBowlDC was reporting that Politico's Nia-Malika Henderson was about to jump ship to the Washington Post to cover the First Family.
The exodus at Politico–which has done its own poaching of top reporters since its inception–has become fodder for its rivals. In the past few weeks, Politico has lost three other reporters in addition to Calderone and Henderson.

But as Betsy Rothstein reported for FishBowlDC the recent losses at Politico could be attributed to a number of new start-ups, like Yahoo's efforts which lured Calderone, and the hiring spree by Bloomberg. The Washington Post and New York Times are also beefing up after losing a number of high profile staffers.
The loss of Henderson comes as Politico has been on the defensive for its lack of diversity in its editorial and reporting ranks. Henderson is the most high-profile African American reporters at the paper, covering Michelle Obama on the White House beat. Since Mediaite reported on the diversity problems at Politico, the paper has also lost one of its top female editors, Pia Catton, to the Wall Street Journal.
While there is often grumbling about unhappiness in the Politico ranks, it's also clear that Politico is a hothouse environment where people are expected to work incredibly hard and  build a brand for themselves and the paper. That kind of situation is going to result in a lot of turnover as people move onto bigger and better things.
Here's a bit from Calderone's farewell.
So why leave? Here's what VandeHei told me in November 2006, the day he left the Post for a brand-new online venture: "I have one of the coolest jobs in journalism. Why would I give it up for this?"

Good question! But I'm now very excited to join Yahoo! News as part of a new project being helmed by Andrew Golis and Chris Lehmann and with a fast-growing group of excellent bloggers. I'll still be writing on all things media, and the project will be getting off the ground soon.
Have a tip we should know? tips@mediaite.com