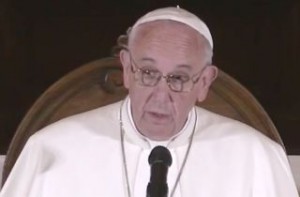 Pope Francis has angered a lot of Catholics with his recent comments about "null" marriages.
According to Reuters, His Holiness said this week, "A great majority of our sacramental marriages are null because they say 'Yes, for the rest of my life,' but they don't know what they are saying because they have a different culture."
In other words, lots of marriages are invalid because people don't truly understand that it is a lifetime commitment.
Needless to say, lots of people flipped out:
"The great majority of our sacramental marriages are null." An extraordinary, irresponsible and ridiculous claim:https://t.co/8H75YKSlkV

— Ross Douthat (@DouthatNYT) June 16, 2016
3/ What you need are valid consent, an intention of permanence and fidelity, and an openness to children.

— Ross Douthat (@DouthatNYT) June 17, 2016
6/ But idea that modern issues make *most* marriages invalid implies a WAY higher standard of "true" marriage than the church ever proposed.

— Ross Douthat (@DouthatNYT) June 17, 2016
The Pope's off-the-cuff comments on marriage are disturbing. We need permanence from the Church, not flexibility.https://t.co/gmSFmXMOD9

— First Things (@firstthingsmag) June 17, 2016
And Reuters has comments from more people outraged at the Pope's words:
Matthew Schmitz, editor at the conservative First Things Catholic magazine, called the pope "wrong and irresponsible".

Edward Peters, a U.S. canon lawyer who has been an adviser to the Vatican, wrote that the pope's words were "very bad" because they could spur couples in difficult marriages to "give up now" instead of trying to overcome problems.
And on top of all that FoxNews.com political reporter Adam Shaw wrote a column today titled "Enough is enough, Pope Francis should resign."
Hoo boy:
Francis' statement demonstrates a lack of faith in the Church and its ability to vet couples seeking marriage, to teach them about what marriage is, and to administer the sacraments effectively. If most marriages are invalid because couples don't understand a life-long commitment, does that mean most priestly ordinations are invalid too? If so, are most masses invalid? Most confessions?

The Church's authority rests, in part, on its claim to be able to communicate the sacraments and the teachings of Christ. Francis has cast doubt on the former, has done a poor job of the latter, and by doing so has brought the Church's legitimacy into question.
[image via screengrab]
— —
Follow Josh Feldman on Twitter: @feldmaniac
Have a tip we should know? tips@mediaite.com
Josh Feldman - Senior Editor