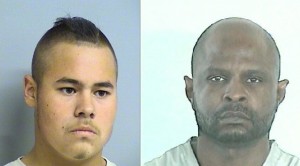 One possible motive that has been raised in the Tulsa Good Friday shooting spree, which left three dead and two critically wounded, is the 2010 killing of suspect Jacob England's father, Carl England, allegedly by Pernell Jefferson. Reporting on that 2010 incident has been unclear, but a review of contemporaneous news accounts and court records show echoes and shadows of the killing of Trayvon Martin, including an apparent connection to the "Stand Your Ground" laws that Martin's case has put into focus.
Jacob England, 19, and Alvin Watts, 37, were arrested Sunday for a Good Friday shooting spree that left 3 people dead, and two critically wounded. All of the victims were black people, and Jacob England's Facebook page contained a message, posted Thursday, which read "Today is two years that my dad has been gone, shot by a fucking nigger."
Coming, as it does, in the midst of a media firestorm over the shooting of Trayvon Martin, the Tulsa shootings are sure to become part of the heated national dialogue on race and justice. The 2010 shooting of Jacob England's father is likely to figure prominently in that discussion.
Early reporting on the 2010 incident referenced in that Facebook posting has been compressed and somewhat confusing, typified by this, from The Associated Press:
The Tulsa World reported that England's father, Carl, was shot in the chest during a scuffle with a man who had tried to break into his daughter's apartment. England later died.

The man charged in the shooting is serving a six-year sentence on a weapons charge, according to Department of Corrections records.
The impression this gives is much simpler than the facts from that case would suggest. That quick paragraph almost makes it sound as though Carl England was killed while attempting to foil a burglary. The reality is far more complex, and thorny.
Here are some details as reported at the time, from The Tulsa World. From April 5, 2010:
A man was shot to death at a Tulsa apartment complex Monday night.The victim, Carl England, was shot in the chest and was pronounced dead about 10:30 p.m. after being taken by ambulance to a hospital, Tulsa Police Capt. Shawn King said.

Police were searching for Pernell Jefferson, 37, Monday night.

The shooting occurred about 9:30 p.m. at the Comanche Park apartments, a Tulsa Housing Authority complex in the 3600 block of North Quaker Avenue, police said.

England's daughter, who lives at Comanche Park, had been in a fight with some people earlier, and her father went to the complex to help her, King said. He was not a resident of the complex, King said.

England and Jefferson, who also is not a resident and had been banned from the complex previously, got into an altercation before England was shot, King said, adding that police were not immediately sure whether the shooting could have been in self defense.
Jefferson was apprehended the following day when he sought treatment for injuries he allegedly sustained in the incidents surrounding the shooting. From the April 8, 2010 Tulsa World:
Pernell Demond Jefferson is accused of shooting Carl England, 47, during an ongoing fight at the Comanche Park apartment complex Monday night. England went to the complex to help his daughter after Jefferson tried to break into her apartment, according to his arrest report.

Jefferson, who records show is either 37 or 38, suffered head and arm injuries in the scuffle and sought treatment at St. John Medical Center the next day, police said. Someone spotted him there and called the police, who arrested him about 2:20 p.m., the report states.

Officer Jason Willingham said a murder complaint against Jefferson is pending.

The shooting reportedly stemmed from a scuffle between Jefferson and Damien Neal, who is England's daughter's boyfriend.

Neal told officers that he hit Jefferson with a baseball bat before the attempted break-in, police said.

Jefferson then left to find a gun, saying he would come back to "settle the dispute," the report states. Meanwhile, England arrived and went looking for Jefferson with Neal.

The men soon found him, and another confrontation unfolded. England struck Jefferson with a stick, and Jefferson shot him after falling to the ground, police allege.
Pernell Jefferson was charged with First Degree Attempted Burglary and felony firearms possession. He pleaded not guilty, and those charges are still pending. On May 27, 2010, he was sentenced to a term of 6 years in prison for violating the terms of a suspended sentence on an earlier conviction for Felonious Pointing of a Weapon, a sentence he's still serving. He's scheduled for trial on the weapons and attempted burglary charges in May.
Still unclear from the reporting is how that initial scuffle started, but from there, the sequence is that Jefferson was hit with a baseball bat, tried to break into the apartment, then left after issuing a threat to go get a gun and "settle the dispute." Carl England and Damien Neal went looking for Pernell Jefferson, England attacked him, and Jefferson shot England. Despite his earlier threats, police apparently determined that Jefferson acted in self-defense, and charged him, instead, with the weapons charge and the attempted break-in.
Oklahoma enacted a "Stand Your Ground" law in 2006, without which Pernell Jefferson probably would have been charged for the shooting. Rather than shooting England, Jefferson could have run away, called the police, fired a warning shot, or simply brandished the weapon at him. Under Stand Your Ground, though, he had "no duty to retreat and has the right to stand his or her ground and meet force with force, including deadly force, if he or she reasonably believes it is necessary to do so to prevent death or great bodily harm to himself or herself or another or to prevent the commission of a forcible felony."
Have a tip we should know? tips@mediaite.com