Pour One Out: Kocktails With Khloé Canceled 14 Episodes In, Maybe Due to Lamar Odom Stress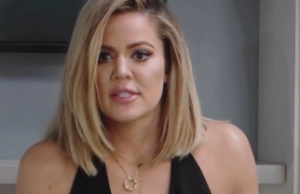 According to reports, the FYI network and Khloé Kardashian have mutually decided to end Kocktails With Khloé after 14 episodes in spite of the impressive bevy of celebrity guests that were invited to the couch in the mock living room that served as the setting of the show.
Hi my loves. I've enjoyed every second of shooting #KocktailswithKhloe

— Khloé (@khloekardashian) April 6, 2016
For those of you unfamiliar with the show, Kardashian invited guests on, plied them with liquor, and asked them personal questions while they all sat in a comfortable living room. Each episode had a different cocktail that was showcased at the top of the hour so that viewers could make it and drink along at home. Guests were usually unrelated and their vast differences from one another were meant to create interesting conversation. For instance, the first episode featured Real Housewife Brandi Glanville, rapper Snoop Dogg, and Kardashian's younger half-sister, model Kendall Jenner.
I'm so thankful to the team at @FYI and @pilgrimstudios for their hard work on the show…

— Khloé (@khloekardashian) April 6, 2016
The reviews were bad from the beginning, though FYI got its highest ratings ever from Kardashian's show. The relative unknown nature of the network — which is a sister channel to A&E — likely contributed to the show's failure, as did the timing of the program. The show premiered in January, just weeks after Kardashian's estranged husband Lamar Odom was hospitalized after being found unconscious in a brothel. It was supposed to premiere in December, but was pushed back, presumably because of Odom's condition. Further, this cancelation comes five days after Kardashian called out of filming over concerns that Odom was drinking too much.
Your support each week has meant more to me than you could imagine, and I'll continue to make time for our weekly chats.

— Khloé (@khloekardashian) April 6, 2016
The show is not going out with a fizzle, but with a bang. Its final episode, set to air on April 20, will feature Kim Kardashian, Kanye West, and John Legend drinking the kocktails while a pregnant Chrissy Teigen joins in on the fun. (Apparently, Kim lost enough weight to be considered for a spot on the couch after all.)
There are SO many exciting things coming up for me that I can't wait to share with you… I'm not going anywhere :) Love you always! XO

— Khloé (@khloekardashian) April 6, 2016
Kardashian can at least take solace in the fact that her talkshow did better than momager Kris Jenner's, which only lasted six weeks.
[image via screengrab]
For more from Lindsey, follow her on Twitter.
Have a tip we should know? tips@mediaite.com