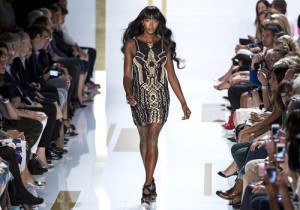 Did you know that supermodel Naomi Campbell put out an album in 1994 titled babywoman? No? Well if you check her Wikipedia page, you'll find a single reference to it towards the end of the "International success" section — and nothing else.
That's because it's one of a few items that, according to The New York Times, "has been brushed up" so as to make Campbell's record of success appear just a little bit more successful.
The report indicates that the public relations firm Sunshine Sachs (which, quite frankly, has the best company name in corporate history) has aggressively re-interpreted Wikipedia's recent standards of use to make significant changes to the pages of its clientele. Published on June 16, 2014, the Wikimedia Foundation requires PR firms to disclose any and all major edits performed. However, the charge claims Sunshine Sachs withheld such information from Wikipedia — something than many other firms pledged not to do last year.
Ken Sunshine, the founder of Sunshine Sachs, told the NYT in an email that the company was aware of the violations, and that they were looking into it. Apparently, a "key employee…was not aware of Wikipedia's new terms."
Aside from Campbell's musical history (or lack thereof), significant alterations were also made to actress Mia Farrow's Wikipedia page. The most notable one regarded a trip she took to Ecuador. No changes were made to the information regarding the visit itself, but a line alluding to things Farrow did (and the media's reaction) was excised completely.
If you're curious, you can check out the music video for "Love and Tears," one of Campbell's singles from babywoman, courtesy of MTV:
[h/t The New York Times]
[Image via Shutterstock.com]
— —
>> Follow Andrew Husband (@AndrewHusband) on Twitter
Have a tip we should know? tips@mediaite.com