Amazon's Confederate Flag Sales Surge (UPDATE: They Now Plan to Yank Items)
With the Confederate battle flag becoming a renewed source of controversy following last week's massacre at a historically black church in Charleston, S.C., several major retailers have pulled all merchandise featuring the historic symbol.
But for those who haven't yet removed the items? It's sales bump time!
Indeed, as the infamous Dixie flag is likely to come down from the South Carolina State House, it seems many Amazon.com shippers intend to stock up.
As of 12:45 p.m. ET, three different sizes of the Confederate rebel flag occupy the top three slots of the e-commerce giant's "Movers & Shakers in Patio, Lawn, and Garden" list — a guide to what items have experienced the most growth in sales over the past 24 hours.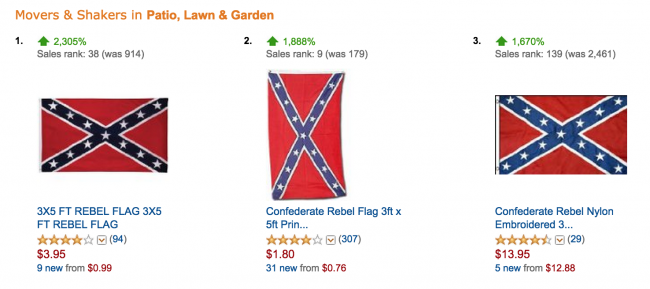 You read that correctly: Two 3×5 ft. polyester versions of the flag have seen 2,305% and 1,888% increases in sales over the past day; and a nylon printed version has grown by 1,670%.
The cheapest of the three — priced at $1.80 through the retailer (and as low as $0.98 through registered sellers) — has seen so much sales growth that it is now among the top 10 best sellers in the online shop's "Patio, Lawn, and Garden" department.
The fact that Amazon still sells the flag has been a point of contention for business watchers — not only for its competitors' decisions, but because Amazon's CEO also owns The Washington Post, which has taken a firm stand against the Confederate flag.
Nevertheless, as the flag remains for purchase on Amazon, you can expect reviewers to flood each item's page with negative reviews — slamming not only the flag itself but the retailer for carrying it.
UPDATE — 2:45 p.m. ET: Looks like Amazon will follow suit and remove the items:
— —
Have a tip we should know? tips@mediaite.com