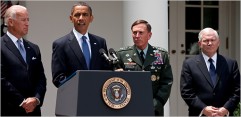 President Obama confirmed today that he had accepted Gen. Stanley McChrystal's resignation and had chosen Gen. David Petraeus to take his place as commander of U.S. forces in Afghanistan. Obama appeared in the Rose Garden alongside Vice President Joe Biden, Gen. David Petraeus, Sec. Gates, and Adm. Mullen.
Obama's sendoff to McChrystal was notably kind; the President spoke highly of McChrystal's tenure in Afghanistan and was careful to point out that the decision was not a personal one.
I don't make this decision based on any difference in policy with General McChrystal, as we are in full agreement about our strategy. Nor do I make this decision out of any sense of personal insult. Stan McChrystal has always shown great courtesy and carried out my orders faithfully. I've got great admiration for him and for his long record of service in uniform.
However! "The conduct represented in the recently published article does not meet the standard that should be set by a commanding general." It was at this point Obama shifted into angry dad mode:
I've just told my national security team that now is the time for all of us to come together. Doing so is not an option but an obligation. I welcome debate among my team, but I won't tolerate division.

All of us have personal interests. All of us have opinions. Our politics often fuels conflict. But we have to renew our sense of common purpose and meet our responsibilities to one another, and to our troops who are in harm's way and to our country.

We need to remember what this is all about. Our nation is at war. We face a very tough fight in Afghanistan. But Americans don't flinch in the face of difficult truths or difficult tasks. We persist and we persevere.
This was just the sort of stern tone a lot of people felt was missing from Obama's Oval Office speech last week. Hopefully we can look forward to a similar tone in the future, though obviously on a different subject. Watch below.
Have a tip we should know? tips@mediaite.com