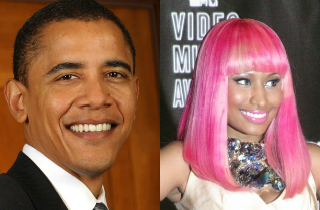 During a radio interview this weekend with Power 95.3 in Orlando, President Obama gave his thoughts on the most pressing national issue of last week: Did rapper Nicki Minaj endorse Mitt Romney during one of her new rhymes?
As a refresher, Minaj's verse on a new Lil Wayne mixtape track included the lines: "I'm a Republican voting for Mitt Romney / You lazy bitches is fucking up the economy / Out in Miami I be chilling with a zombie."

As I wrote last week, anyone with a smidgen of knowledge about Minaj's explosive career would recognize that she has a penchant for playing characters and messing with her audience. She is known for having an alter-ego known as "Roman Zolanski," her gay demonic twin brother that "lives inside" her.
In other words: No, Nicki Minaj was not making a real political statement or actually endorsing Romney or calling Democrats "lazy bitches."
When asked for his thoughts on the matter, President Obama told the Top 40 radio station: "I'm not sure that's actually what happened. I think she had a song on there, a little rap that said that."
"But, she likes to play different characters. So I don't know what's going on there," the president concluded.
Yes. Thank you!
But did Power 95.3 really need to waste precious airtime with such an obvious question? Can't we just put this one to rest? Okay, I will:
No, people, Nicki Minaj did not endorse Mitt Romney. (And no, Nicki Minaj has never chilled with a zombie in Miami.)
UPDATE: Minaj has finally addressed the controversy via Twitter, praising the president for "understanding my creative humor & sarcasm," effectively admitting the whole endorsement was, yes, a joke:
Ha! Thank you for understanding my creative humor & sarcasm Mr. President, the smart ones always do… *sends love & support* @barackobama

— Nicki Minaj (@NICKIMINAJ) September 10, 2012
Listen to the radio clip below, via Power 953:

[h/t RCP]
— —
>> Follow Andrew Kirell (@AndrewKirell) on Twitter
Have a tip we should know? tips@mediaite.com