President Obama Signs Memorandum Protecting Hospital Visitation Rights For LGBT Community (Video Update)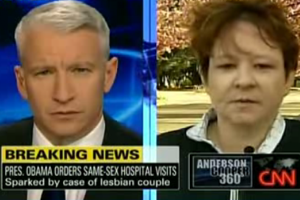 President Barack Obama signed a memorandum this evening to expand visitation rights for relatives of those ailing, a move that the LGBT community is praising for explicitly referring to the rights of gays and lesbians to visit and make decisions for sick partners. "Hospitals," it reads, "may not deny visitation privileges on the basis of race, color, national origin, religion, sex, sexual orientation, gender identity, or disability."
The Human Rights Campaign is heralding it as a victory for the advancement of gay rights, with president Joe Solmonese releasing a statement stating that "no one should experience what befell the Pond-Langbehn family, and the President's action today will help ensure that the indignities Janice and her children faced do not happen to another family," referencing the case of partners Lisa Pond and Janice Langbeh made famous in a New York Times profile last year.
UPDATE: Anderson Cooper interviewed Janice Langbeh tonight about the significance of this memorandum. Her comments on her experience, the memorandum, and her conversation with President Obama below:

The memorandum does note that it is "not intended to, and does not, create any right or benefit, substantive or procedural, enforceable at law or in equity by any party against the United States, its departments, agencies, or entities, its officers, employees, or agents, or any other person," however, so it is probably just a first step in advancing the gay rights cause the Obama administration promised it would work on during its tenure.
The memorandum is available for download below:
2010 Rights Patients Mem Final
Have a tip we should know? tips@mediaite.com