President's Harvard Professor: Obama 'Failed To Advance The Progressive Cause' And 'Must Be Defeated'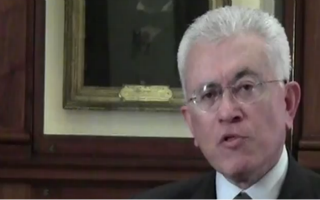 President Barack Obama's former Harvard professor took to YouTube in late May where he condemned President Obama's actions during his first term in office. "President Obama must be defeated in the coming election," said the President's former professor and 2008 campaign advisor. "He has failed to advance the progressive cause in the United States."

RELATED: Fmr. Obama Economic Adviser On This Week: Pres. Obama 'Should Have A Mea Culpa'
Professor Roberto Unger, an author and professor who taught the President courses in "reinventing democracy" during his time in Harvard, has become disillusioned with Obama.
Unger posted a video to YouTube, entitled "Beyond Obama" where he urges people to vote against the President. In that video, Unger attacks the Democratic party, the President, the tax code and the United States economy.
"He has spent trillions of dollars to rescue the moneyed interests and left workers and homeowners to their own devices," said Unger of Obama.
"He has subordinated the broadening of economic and educational opportunity to the important, but secondary issue, of access to health care in the mistaken belief that he would be spared a fight," Unger continued.
"His policy is financial confidence and food stamps," said Unger.
"The Democratic party proposes no new direction," said Unger. "Its idea is to put a human face on the program of its adversaries." Unger advocates for Obama's defeat so that there can be a "reorientation" of the Democratic party towards progressivism.
That is not to say that Unger is supporting Republicans – he says that, If the GOP "had its way, inequality would become even greater than it is now and threaten freedom and prosperity even more than it now does."
However, he believes that a reorientation of the Democratic party can only be achieved through the defeat of Obama.
'Only a political reversal can allow the voice of democratic prophecy to speak once again in American life," Unger concludes.
Watch the clip below:
> >Follow Noah Rothman (@Noah_C_Rothman) on Twitter
Have a tip we should know? tips@mediaite.com