Pressure Mounts for Murdoch As British Politicians React To News of the World Phone Hacking, Sunday Closing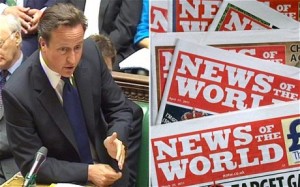 After James Murdoch announced earlier today that the News of the World would be printing its final edition on Sunday, a spokesman for UK Prime Minister David Cameron said everyone at the paper involved in illegal activities should be brought to justice.
Yesterday, when more news of voicemail hacking was released to the public, Cameron called for an investigation into the matter. Today, his spokesman insisted his position has not changed in the face of the paper's imminent demise.
"What matters is that all wrongdoing is exposed and those responsible for these appalling acts are brought to justice… As the Prime Minister has made clear, he is committed to establishing rigorous public inquiries to make sure this never happens in our country again."
Cameron has not directly called for anyone to resign from News International, but in January his communications director Andy Coulson, who served as News of the World editor from 2003 to 2007, stepped down after he was linked to the phone hacking scandal. And now the Prime Minister is being pressured to call for the resignation of News International executive Rebekah Brooks, who has been directly linked to the phone hacking scandals.
Some members of parliament are insisting the paper's closure is not enough, and "would not satisfy those whose privacy had been invaded by phone-hacking." Labour MP Chris Bryant claims the paper closing is merely "all to save Rebekah Brooks," and "if she had a shred of decency she would have resigned by now." Fellow MP Tom Watson echoes his colleague's sentiments:
"There are still people who did the most egregious invasions of privacy to people suffering massive amounts of grief. The anger will only subside when a very senior executive in the company takes responsibility for this heinous attack on British people."
Watson also claims that Brooks is a personal friend of Prime Minister Cameron, and that he is one of only two people (along with Rupert Murdoch) who supports her staying. Labour party leader and alleged robot Ed Miliband also called for Brooks to step down. In an interview today with The Telegraph, Miliband said, "I don't think News International can hope to move on and deal with these issues while she remains in her post.
Miliband was also critical of Cameron, saying he "hope[s] the Prime Minister starts speaking out on these issues, instead of hiding away." James Murdoch defended Brooks' "good standard of ethics," and insisted that she "had neither knowledge [of such activities] or directed them." Cameron's own justice secretary, Ken Clarke, defended News of the World, arguing that the paper's closing was a chance to "rebrand."
Alexander Chancellor, a columnist for The Guardian, highlighted the PM's direct connections to News of the World and why it backfired on him.
It has been one of the puzzling things about Cameron that he couldn't see the obvious dangers in this. He couldn't see how much his fealty to the Murdoch empire would undermine his stance as an independent, self-reliant prime minister committed to openness and transparency. But although seeking to contrast himself to Tony Blair in these respects, he seems unquestioningly to have accepted Blair's view that a condition of success in British politics is to please the world's most powerful media magnate. This now looks like a terrible misjudgment.
This close connection is leading some to speculate that Murdoch decided to dump the paper to protect News Corp's expected acquisition of BSkyB, one of the largest pay television networks in the UK. Former Labour MP Tony McNulty expressed similar sentiments in a tweet earlier today.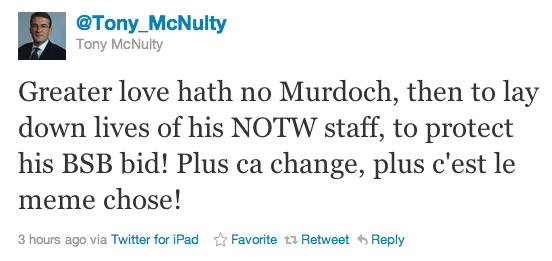 (To its credit, Sky News, the news division of BSkyB and News Corp subsidiary, has published a list of critical reactions to the News of the World closing and the phone hacking scandal, making it the latest News Corp property to cover its scandal-plagued corporate cousin.)
Rupert Murdoch was approached by reporters earlier today in Idaho, but refused to comment further on the paper's closing.
Have a tip we should know? tips@mediaite.com
Josh Feldman - Senior Editor