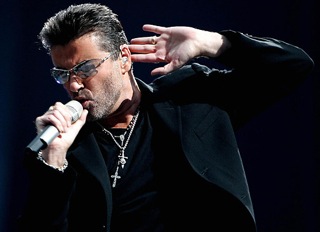 Rupert Murdoch's soon-to-be-defunct News of the World made plenty of enemies over the years, and among the quick to dance on its grave, perhaps surprisingly for some Americans, has been British artist George Michael. Michael, who has both been a target of the paper for many years and may have potentially been one of the victims of the widespread hacking scandal, took to Twitter today to call the end of the publication a "fantastic day for Britain."
Those that follow George Michael on Twitter know that his is among the most serene feeds on the site– plenty of friendly greetings, sage advice, and videos of his adorable dogs. His only angry tweets before this appeared to be in reaction to a comparison to Irish musical creation Jedward, with the exception of another directed as "Murdoch rags" calling him "poof" and "pervert," and a series against the Daily Mail. But in none of them did Michael accuse anyone of corruption– only some in the media of printing false stories– as he has now done with News of the World editor Rebekah Brooks.
"Rebekah Brooks sat two feet from me in my own home and told me that it was never the public that came to them with information," he wrote in a swiftly delivered series of tweets this evening UK time, "or celebrities, and that the Police always got there first." He went on to say that Brooks had not been invited into his home ("don't ask me how she got there"), that his accusations were "in no way an excuse for any of my behavior," but that his statements on "the NOTW's corruption of the British justice system was by way of public warning." He concluded the Twitter monologue with an appeal to karma and hope that Minny Dowler's family got the justice they deserved (Dowler was a missing teenager whose phone News of the World allegedly hacked into while she was already dead, giving her family false hope that she was still alive).
Michael already had plenty of reason to celebrate the paper's demise– a quick review of almost any article on the paper's site about him proves why. The AP reported additionally that what could have set Michael off was that among the stories News of the World got a lead on through phone hacks was the singer's recent car crash, though did not specify whose phone had been hacked to retrieve the information. Whatever the backstory, Michael has added some significant accusations to the laundry list that plagues News International (the Murdoch parent company that serves to his UK publications the way News Corporation works here)– perhaps the most damning, even more than the breaking and entering implication, that Brooks had significantly corrupted the police department.
No word on whether investigators will be looking into Michael's claims. His full Twitter statements (read down to up) below: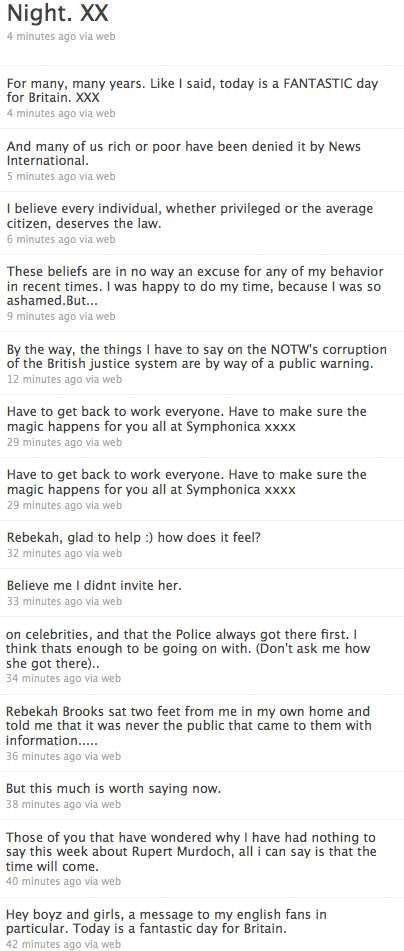 Have a tip we should know? tips@mediaite.com