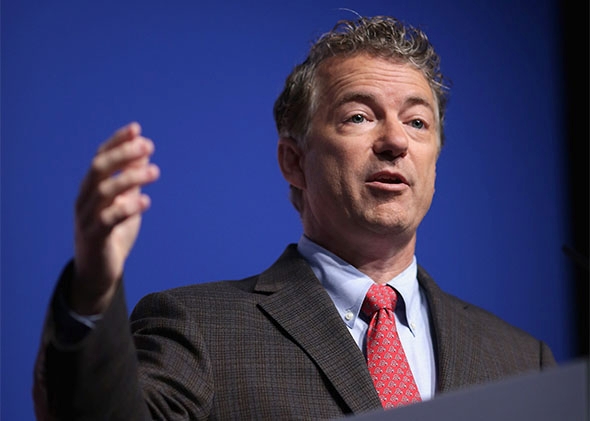 If the story of Eric Cantor is to be used as a cautionary tale, Rand Paul should be aware that a candidate's home state electorate is not always forgiving when it comes to national ambitions.
GOP candidate and Kentucky Senator Rand Paul may be finding this out the hard way, although the Paul camp insists that his commitment is safely spread over two campaigns: the Republican Presidential nomination and his Senate reelection.
POLITICO reports that an anonymous Republican strategist said of the situation, "This Presidential dream needs to come to an end… Senate Republicans can't afford to have a competitive race in Kentucky". This rhetoric comes on the heels of more poll data that suggests Paul's national campaign for the GOP nomination is in serious trouble.
The Rand Paul camp continues to say that it can successfully navigate the waters of both elections; when asked about potential worries regarding his Senate seat at home, Paul reportedly firmly said to reporters: "No".
At home in Kentucky, Paul has missed several appearances that are traditionally attended by the Senator. A member of the Executive Council in his home state said, "He needs to pay attention to the Senate race, or we could lose the seat".
Communications Director for the Paul campaign Kelsey Cooper said, "Sen. Paul's No. 1 priority is doing the job he was elected to do and his nearly perfect attendance record in the Senate is evidence of his unwavering commitment to all Kentuckians… Sen. Paul has always said he would run for both Senate and president — which is exactly what he's doing."
According to the latest polling data from Real Clear Politics, Rand Paul is polling nationally at 2.3%, just ahead of struggling GOP candidates Rick Santorum and Bobby Jindal. The Kentucky Senator has had a well documented feud with Donald Trump early on in his bid for the nomination, and has even stooped to name-calling as a campaign tactic.
[h/t to POLITICO]
[image via screengrab]
—
>> Follow J.D. Durkin (@MediaiteJD) on Twitter
Have a tip we should know? tips@mediaite.com