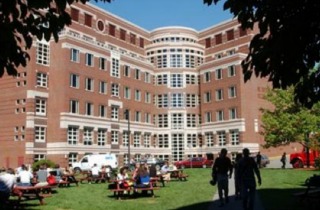 Harvard University's prestigious John F. Kennedy School of Government used to imbue their graduates with the spirit of public service. As a play on the famous words President Kennedy uttered during his inaugural address, the school's motto, "Ask what you can do," fills one with a desire to strive and achieve for the betterment of society. If some get their way, however, that can-do attitude is soon to be supplanted by a paralyzing sense of inadequacy.
Upon admittance, new enrollees to the Kennedy School will soon be made to take an orientation class in which they are informed of their level of "privilege" and instructed on ways in which they can "check" it. "We're at one of the most powerful institutions in the world, yet we never critically examine power and privilege and what it means to have access to this power," said Reetu Mody, a first year master's student and "campus activist."
Yes, the first thing that comes to mind when people think of higher education is a noble contempt for self-gratifying onanism.
New York Magazine's Kat Stoeffel indicates that Harvard's decision to introduce "privilege-checking" into the curriculum may have something to do with the critique the ideology of "privilege" recently received from Princeton University freshman Tal Fortgang. In an essay in his school paper, the 19-year-old nonconformist punctured the paper-thin membrane of logic which protected the idea of "privilege" from being cautiously mocked to outright ridiculed.
RELATED: The Pending Implosion of the 'Check Your Privilege' Movement
Exposed as the sham that it is by a teenager, higher education is now engaged in a petulant circling of the wagons around the bankrupt notion that the accidents of birth absolve one of fault for their failures or rob them of responsibility for their successes.
But devotees like Mody feel that Fortgang is merely confused; lashing out senselessly after experiencing a loss of the identity he incubated in high school. "If what you've been told all your life is you're really talented and you deserve what you have, it's going to be really hard to find out Maybe I don't deserve it, and all these other people equally deserve it but never even had a shot," she said.
So, to review, Fortgang has been done a disservice. Like so many, and in spite of his claims to the contrary, he's really a victim. All his life, this poor student been told that he was talented and deserves the achievements for which he has strived – like being admitted to Princeton University. But after being informed by "campus activists" that his Holocaust-surviving grandparents actually left him "privileged" and he does not merit his own accomplishments, he's understandably a bit miffed.
Yeah, it's easy to see how that could happen to everyone.
[Image via Harvard University]
— —
>> Follow Noah Rothman (@NoahCRothman) on Twitter
Have a tip we should know? tips@mediaite.com