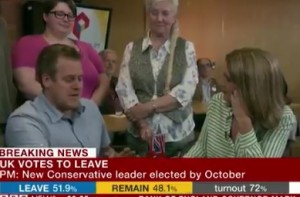 A man known only as "Adam from Manchester" has become the laughingstock of Britain after admitting in an interview with the BBC that he only voted for the United Kingdom to leave the European Union because he thought there was no way the proposal would win.
"I'm a bit shocked to be honest," said Adam. "I'm shocked that we actually have voted to leave, I didn't think that was going to happen."
"My vote, I didn't think was going to matter too much because I thought we were just going to remain," he said.
Adam from Manchester voted for LEAVE. He is "shocked & worried" by country's decision to Brexit. Don't be like Adam. pic.twitter.com/oAbjGVHdA0

— The Greek Analyst (@GreekAnalyst) June 24, 2016
"I think the period of uncertainty that we're going to have for the next couple of months, that's just been magnified now," Adam concluded. "So yeah, quite worried."
Social media was less than kind to poor Adam.
Adam from Manchester didn't realise voting out meant voting out. Now he's concerned.

The average Brit, ladies and gentleman.

— Arse Wipe (@ArsendWenger) June 24, 2016
Adam from Manchester voted for LEAVE. He is "shocked & worried" by country's decision to Brexit. Don't be like Adam. pic.twitter.com/oAbjGVHdA0

— The Greek Analyst (@GreekAnalyst) June 24, 2016
Adam from Manchester ordered a pint of lager. Well. Imagine his surprise when this turned up. pic.twitter.com/MyAJWGxcyz

— MAGIC TRAMPS (@Elliot_Eastwick) June 24, 2016
Adam from Manchester couldn't believe it when he asked his wife to make fish & chips for tea & she brought him this pic.twitter.com/Qie9hcemai

— Scib (@Scib77) June 24, 2016
@GoldCaro Adam from Manchester – wow. how stupid must he feel right now? Maybe even a tenth as stupid as he is.

— joemattinson (@joemattinson) June 24, 2016
[Image via screengrab]
——
>>Follow Alex Griswold (@HashtagGriswold) on Twitter
Have a tip we should know? [email protected]