Pro-Immigration Reform Activists Target GOP'ers with Kids in Town Hall Campaign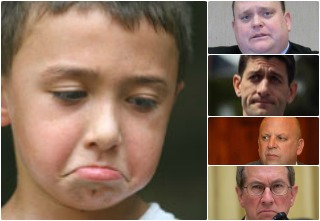 Over the weekend, the story of an 11-year-old girl cornering Rep. Scott Desjarlais (R-TN) at a town hall meeting and asking how she could avoid having her illegal immigrant father deported exploded online. The pro-GOP crowd cheered when Desjarlais responded that laws need to be obeyed, prompting a number of left-leaning organizations to promote that exchange as an example of the GOP's heartlessness when it comes to immigration issues.
It is surely just a coincidence then that another Republican representative was cornered at a town hall over the weekend with another emotionally charged question regarding the status of the children of expelled illegal immigrants. This time, the questioner asked a GOP Congressman whether or not he would adopt the children of illegal immigrants once they are deported.

RELATED: Tea Party Crowd Cheers as GOP Rep. Tells 11 Year Old Her Father Will Be Deported
Writing at Legal Insurrection, William A. Jacobson posted his video of an exchange between Rep. Tom Reed (R-NY) and one town hall attendee who asked for the Republican Party's thoughts on keeping illegal immigrants' families together.
An estimated 5 million U.S. citizen children have an undocumented parent. Guest worker programs do not keep those families together. Do you believe these parents should be deported, and if so, do you believe their U.S. citizen kids should be put in foster care or get deported too. Would you consider adopting one of those kids?
The themes of the questions posed to Reed and Desjarlais, Jacobson writes, are strikingly similar to those posed to Reps. Paul Ryan (R-WI) and Bob Goodlatte (R-VA) at their town halls. Each pointed question and the Republican response making their way into prefabricated, breathless posts on liberal websites decrying the heartlessness of the GOP officeholder in question.
Few, however, are identifying the clear pattern that Jacobson has. Does the impact of what is apparently an organized campaign lessen once it is identified as such? A better question: should the media care about what impact a campaign has or does not have on the voting public?
> >Follow Noah Rothman (@NoahCRothman) on Twitter
Have a tip we should know? tips@mediaite.com