Provocative Netanyahu Cartoon Garners Heavy Criticism, Personal Apology From Rupert Murdoch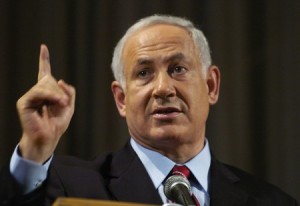 This past Sunday was Holocaust Remembrance Day, and a cartoon published in a British newspaper on that very day attacking the prime minister of Israel is facing criticism for being offensive, tasteless, and even anti-Semitic. The Sunday Times cartoon, which you can view here, depicts Benjamin Netanyahu as a bricklayer using the blood and bodies of Palestinians as mortar. The editor of the Times issued out a personal apology today, and even Rupert Murdoch, whose News International owns the Times, apologized for the publication of the "grotesque, offensive cartoon."
RELATED: Rupert Murdoch Apologizes To Anti-Defamation League For Tweet About 'Jewish Owned' Media's 'Anti-Israel' Coverage
Underneath the cartoon, there is a caption that reads: "Israel elections. Will cementing the piece continue?"
The cartoon was penned by Gerald Scarfe, notably known for his animation work on the film version of Pink Floyd's The Wall, who has worked at the Times for over 40 years. In response to the criticism over his most recent cartoon, Scarfe did apologize for the "unfortunate timing" of the cartoon's publication on Holocaust Remembrance Day, but stood by the content and message of the work. His full statement:
First of all I am not, and never have been, anti-Semitic. The Sunday Times has given me the freedom of speech over the last 46 years to criticise world leaders for what I see as their wrong-doings. This drawing was a criticism of Netanyahu, and not of the Jewish people: there was no slight whatsoever intended against them. I was, however, stupidly completely unaware that it would be printed on Holocaust Day, and I apologise for the very unfortunate timing.
The calls of anti-Semitism derive from the fact that Scarfe's use of blood invokes the concept of "blood libel," a grossly offensive belief that Jews murder children to use their blood in religious rituals. Stephen Pollard, the editor of the Jewish Chronicle, doubts that Scarfe was "unaware of the resonances of his cartoon."
The Israeli ambassador to the United Kingdom has personally demanded an apology, and despite the words of regret coming from the Times, the paper has been very clear that they do not believe the cartoon was anti-Semitic. Acting editor Martin Ivens profusely apologized for the insensitivity of the cartoon, but a spokesman released this statement defending the cartoon against the charges of anti-semitism.
"The Sunday Times firmly believes that it is not antisemitic. It is aimed squarely at Mr Netanyahu and his policies, not at Israel, let alone at Jewish people. It appeared on Sunday because Mr Netanyahu won the Israeli election last week."
The cartoon came under such heavy criticism that Rupert Murdoch himself weighed in with an apologetic tweet on Monday.
For the sake of context, another recent cartoon by Scarfe depicts Syrian president Bashar al-Assad as literally drinking the blood of children. It is for that reason why blogger Andrew Sullivan, while not exactly a fan of Scarfe's Netanyahu cartoon, concluded that it was not borne from a place of bigotry, but from outrage.
[Image via]
—–
Follow Josh Feldman on Twitter: @feldmaniac
Have a tip we should know? tips@mediaite.com
Josh Feldman - Senior Editor