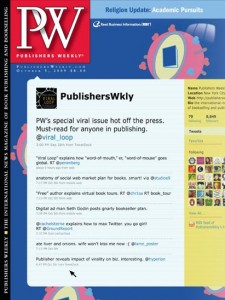 The October issue of Publishers Weekly, the book world's premiere trade magazine for over 130 years, is quite forward-thinking for such an old-time product. One glance at this edition's cover — an artistic recreation of the magazine's Twitter page — and it's clear that this isn't your great-great-grandfather's Publishers Weekly. Actually, it's the Viral Issue and it's online and on newsstands now — what's inside might surprise you.
In this doom and gloom time for publishers of all kinds, it's refreshing to see a publication — and a cornerstone of the traditional system's reign, no less — look toward the future not with fear and uncertainty, but with optimism and hope. PW's Viral Issue focuses on the ways in which authors and publishers can maximize the reach of their work using largely free online services. Not only are the issue's pieces insightful and instructive, but it features contributions from some of the biggest names in the field — those trailblazers who have embraced change and seen results. Here's a rundown of some of the highlights:
Rachel Sterne's "Creating Your Viral Loop on Twitter": As the young founder of GroundReport.com, Sterne has made a name for herself in hyperlocal online news and here she provides tips for Twitter use. Sure, it's been done, but for a new audience and written with flair, Sterne often hits the bullseye, as in this nugget of Twitter knowledge: "Pick your rhythm, and stick to it. Whether you're prolific or concise, maintain your pace of tweeting so that followers don't feel inundated or abandoned. Less is usually more."
Kevin Smokler and Chris Anderson's "Virtual Book Tour": The co-editors of Booktour.com push the practice into a digital age, imploring authors to take hold of their personal brand (a theme that runs through the issue) in order to best reach the "dedicated book fan." As they write, "We should use the Web to empower that passion." In other words, don't fight the future — optimize it.
Adam Penenberg's "The Viral Loop" and "Blogging as Multiplier Effect": The technology writer is creating his own marketing storm in anticipation of his new book, also called Viral Loop, and it's entirely based in the culture he's describing. Here, the author writes about using networks like Facebook, Twitter and blogging platforms to promote a book and spread ideas so everyone benefits.
Seth Godin's "Where Ideas Go To Die, Not Spread": The online ad man and blogger extraordinaire wants to reinvent the local bookstore and thinks that technology is part of the answer. They don't have to die, he writes, so long as they accept the "new rules of engagement." They key is creating a "coffeehouse culture where ideas spread virally."
Check out the rest of the Viral Issue here.
Full Disclosure: Adam Penenberg was a professor of mine at New York University.
Have a tip we should know? tips@mediaite.com