(Update: Fox Responds) R.E.M. Slams Fox For Using Their Song During DNC Coverage: 'Our Music Does Not Belong There'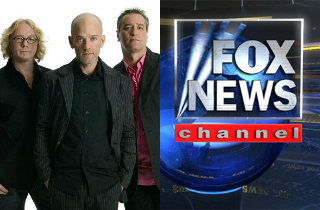 Recently-disbanded alt-rock legends R.E.M. are quite unhappy with Fox News for using their 1991 hit single "Losing My Religion" during the network's coverage of the Democratic National Convention.
After learning of the network's musical selection, the band posted a statement on their website: "R.E.M. today, through its music publisher, Warner-Tamerlane Music, demanded that Fox News cease and desist from continuing its unlicensed and unauthorized use of the song."
The post also quoted frontman Michael Stipe, who took a swipe at the network: "We have little or no respect for their puff adder brand of reportage. Our music does not belong there."
R.E.M. have been vocal supporters of liberal causes since the band's inception in 1980. They have also supported the Democratic Party, performing on the Vote for Change Tour in support of Sen. John Kerry's 2004 presidential campaign. Stipe has also been an outspoken supporter of President Obama, calling him the "right man for the job" on multiple occasions.
UPDATE: A Fox News spokesman has issued the following statement:
"FOX News Channel's use of an R.E.M. song during Thursday's edition of Fox & Friends was in full accordance with its license agreements with all appropriate parties. Nevertheless, we're always flattered to have this much attention for a song selection and we hope R.E.M. was able to satisfy their publicity fix."
Mediate has obtained a letter Fox sent to R.E.M.'s legal representative: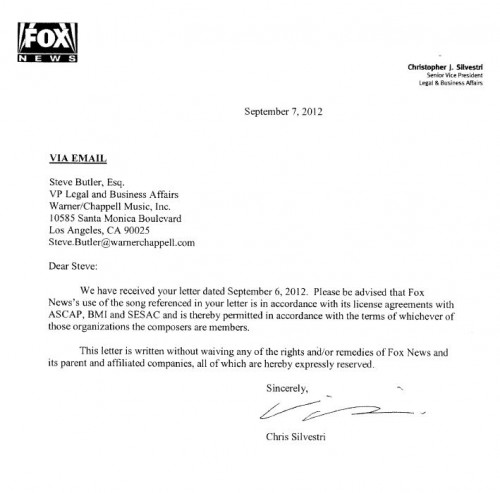 — —
>> Follow Andrew Kirell (@AndrewKirell) on Twitter
Have a tip we should know? tips@mediaite.com