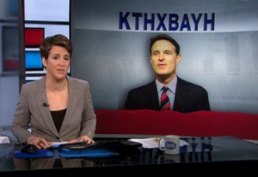 Lately Congress has started to feel a bit like a game of Ten Little Indians: who's next. Yesterday's announcement from Indiana senator Evan Bayh (D) that he would be retiring, amazingly caught just about everyone off guard (and we mean everyone). Bayh, who at 54 is relatively young, is widely considered the only Democrat able to win Indiana (though this time around was expected to be tougher than in years past) and despite not quite making the VP cut in either 2004 or 2008 had a fairly rosy political future by any measure. So what gives?
Last night Chuck Todd told Chris Matthews (video below) that he thought Bayh has just recognized he had reached his career ceiling in the Senate and there was no where else to go, which strikes me as a bit of a weak argument especially considering all the accolades heaped on Ted Kennedy for his lifetime service to the Senate.
Bayh said in his statement yesterday that he "does not love Congress" (honesty? Either way, so much better than I want to spend more time with my family) and that "Congress is not operating as it should…There is too much partisanship and not enough progress — too much narrow ideology and not enough practical problem-solving. Even at a time of enormous challenge, the people's business is not being done." He also said that staying in the Senate is "not good enough" and that "I believe I can best contribute to society in another way." Which sounds awfully similar to Sarah Palin's remarks when she announced she would not finish out her term as Governor of Alaska. Is Bayh also considering an eventual White House run? By leaving now he'll be detaching himself from all the nonsense and bad decisions currently dragging Congress down, which could make a run down the line (if not in 2012 than after that) that much easier an unfettered.
By leaving now he is also screwing the Democrats. Big time. Rachel Maddow seems to think that was part of "conserva-dem" Bayh's plan: "the initial reaction inside the Beltway was that Bayh was giving the party he belonged to, but never seemed to like that much, one last sucker punch on his way out the door." This is because today is the filing deadline for any Dem who wants to run in the Democratic Senate primary and none of the candidates considering it have nearly enough signatures. Considering Bayh made this decision on Friday the fact he took till today to announce does strike as rather scheming. No primary means the Democratic party of Indiana has to pick a candidate to run. But he has also screwed the Republicans, says Maddow, who had they known he was out of the race might have run a different slate of candidates (ones who could win?) against him. Basically, in one fell swoop Bayh has screwed everyone, everywhere, except maybe himself. Videos below.
Visit msnbc.com for breaking news, world news, and news about the economy
Have a tip we should know? tips@mediaite.com