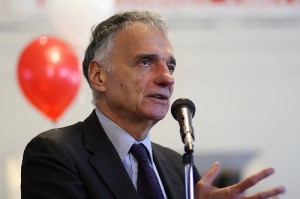 Ralph Nader, Cornel West and 45 other "distinguished leaders" have joined forces in search of a "recognizable, articulate" candidate who could pose a challenge to President Barack Obama as he campaigns for reelection. Never a content Democrat, Nader says it's "very unlikely" that he will run himself, and that this challenge is not meant to hinder Obama's chances of reelection. "I just want all these liberal, progressive agendas to be robustly debated. Otherwise, there will be a de facto blackout of their discussion," he told the Washington Post yesterday.
According to the Post's report:
The group said Saturday it is seeking six "recognizable, articulate" candidates who would not mount serious challenges to Obama, but "rigorously debate his policy stands" on issues related to labor, poverty, foreign policy, civil rights and consumer protections.
While the group does harbor certain concerns regarding President Obama's policies in Afghanistan and Pakistan, his handling of the recent debt ceiling debate, and his relationship to Wall Street, they remain insistent that in offering a challenger they mean to do well by the Democratic Party. As Nader explains in the Washington Times, the group's intent is to create debate and draw attention to the Democratic Party in the same way the GOP primary has done for the Republicans:
"Without debates by challengers inside the Democratic Party's presidential primaries, the liberal/majoritarian agenda will be muted and ignored," Mr. Nader said in a news release. "The one-man Democratic primaries will be dull, repetitive, and draining of both voter enthusiasm and real bright lines between the two parties that excite voters."
Nader has famously been faulted for his nettling in the 2000 campaign, costing Al Gore a lot of Democratic votes with his Green Party win. His intentions here, though, sound pure. Moreover, as the Post points out, while President Obama's ratings have continued to drop, his reelection campaign has picked up speed:
Obama is building a formidable reelection campaign that is easily exceeding quarterly fundraising goals and is on course to raise more than $1 billion. Campaign aides last week defended the president's slipping approval numbers by noting that more than a year before the election, he is attracting thousands of volunteers and small-dollar donors.
Have a tip we should know? tips@mediaite.com