Rand Paul Staffer 'Southern Avenger' Resigns: 'I Look Forward To Fighting These Battles On My Own'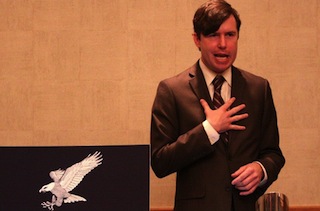 Jack Hunter, a Rand Paul campaign aide who was recently outed by the Washington Free Beacon as the former "Southern Avenger," resigned from Paul's staff over the weekend.
According to the Daily Caller, Hunter "wanted to avoid being a distraction for Paul and to clear his own name, which he argues is now unfairly associated with racism."
Two weeks ago, the Beacon ran an exposé on Hunter, the co-author of Paul's 2010 book The Tea Party Goes To Washington and Paul's current social media director. The article revealed Hunter's prior role as a secessionist pundit, a gig that involved wearing a confederate flag mask and toasting annually to John Wilkes Booth, whose "heart was in the right place" when he assassinated Lincoln.
The Beacon's piece caused a flurry of controversy, with even some conservatives wondering what Paul was thinking in either knowingly hiring Hunter or not vetting him.
RELATED: Rebel Alliance: Rand Paul Stands Behind The Southern Avenger
Hunter renounced many of his views to the Beacon, claiming they were part of a more radical youth long since left behind, a stance he reiterated to the Daily Caller:
"I've long been a conservative, and years ago, a much more politically incorrect (and campy) one…But there's a significant difference between being politically incorrect and racist. I've also become far more libertarian over the years, a philosophy that encourages a more tolerant worldview, through the lens of which I now look back on some of my older comments with embarrassment."
Paul's office stood by Hunter in the wake of the Beacon's scoop. But the aide says he hopes to speak more openly as a freelance commentator, without the baggage of a U.S. Senator.
"I look forward to returning to just being a pundit and fighting these battles on my own," Hunter said. "The neoconservatives, who first ran and promoted this story, would much rather argue about the Civil War than the Iraq War."
Read the full article HERE.
[h/t Daily Caller]
—
>> Follow Evan McMurry (@evanmcmurry) on Twitter
Have a tip we should know? tips@mediaite.com