Rand Paul Supporter Stomps On Head Of Female MoveOn Rep In Pre-Debate Scuffle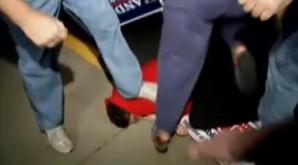 It was an ugly scene outside the Rand Paul–Jack Conway debate in Kentucky last night, as a scuffle led to a female MoveOn.org representative getting tackled to the ground and having her head stomped on my an older male Rand Paul supporter.
The rep went to the hospital, the culprit hasn't been caught and the Paul campaign has responded. This race is getting weirder by the day.
The woman, Lauren Valle, tried to give Paul a fake Employee of the Month award for an organization MoveOn created that connects the GOP and business. But her wig was pulled off, she was tackled, and one man stepped on her head. "These supporters are not very nice to me and my message," said Valle. "I got my head stepped on, so I have a bit of a headache."
TPM reports, as of last night, "Valle is in the hospital and [MoveOn] is awaiting word on her condition."
Meanwhile, Huffington Post has comment from the Lexington Police spokesman, who says "they have not yet identified the man captured on video stomping the head of the MoveOn volunteer," and it is a pending investigation.
Politico has this statement from the Rand Paul campaign:
We understand that there was an altercation outside of the debate between supporters of both sides and that is incredibly unfortunate. Violence of any kind has no place in our civil discourse and we urge supporters on all sides to be civil to one another as tensions rise heading toward this very important election. We are relieved to hear that the woman in question was not injured.
Still one week to go until the election. Check out the video below:

—–
» Follow Steve Krakauer on Twitter
Have a tip we should know? tips@mediaite.com