Eat Me! Men's Health's David Zinczenko Blasts Rocco Dispirito Over 'Imitation' Cookbook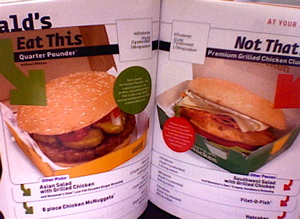 A controversy is simmering in an overlooked corner of the media: the apparently cutthroat world of cookbooks. Men's Health Editor David Zinczenko is calling out Rocco DiSpirito over his Now Eat This! book, which Zinczenko says borrows too heavily from his long running Eat This, Not That! series of cookbooks and weight-loss guides. "If imitation were the sincerest form of flattery," he contended in the otherwise serene pages of Publishers Weekly, "I'd be bursting my buttons."
Cook This, Not That!, which Zinczenko released in October of 2009, offers readers recipes for "healthy versions of high calorie restaurant dishes," while Now Eat This! (released in March 2010) "gives recipes for healthy versions of high-calorie foods." Sound similar?
Zinczenko thinks so:
But obviously, any author who puts years of hard work into building up a brand feels chagrined when someone comes along and produces a product with a very similar-sounding name and a very similar premise. Rocco DiSpirito has put out five previous books, and every one of them has sold poorly. Now Eat This! has already sold more than all of his previous titles combined. So it's clear that co-opting the Eat This, Not That! brand–and copying our premise and duplicating some of our graphic elements–has paid off seemingly handsomely for him.
If it sounds like DiSpirito just got served, his editor Pamela Cannon begs to differ. While she acknowledges "the similarities" between the two (they are both are cookbooks, after all), she says:
This is about Rocco. Some people overlook [the fact that] he's a world-class chef. [The recipes in Zinzcenko's Cook This, Not That] are not reinvented by a world-class chef, and that's the difference.
Harsh. So did DiSpirito crib Zinczenko's idea, or did he take his idea and try to make it better? Or did Rocco finally figure out a book concept that works? It sounds like one of these culinary hotshots will wind up eating a healthy and nutritional serving of words.
Have a tip we should know? tips@mediaite.com