Rand Paul To Geraldo: Stephanopoulos May Have Helped Obama Concoct 'War On Women' Narrative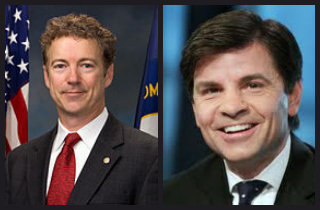 According to Sen. Rand Paul (R-KY), former Democratic operative-turned-ABC-anchor George Stephanopoulos may have purposely aided the Obama White House in creating the "War on Women" narrative used against Republicans during the 2012 election cycle.
Sen. Paul suggested the possibility to Geraldo Rivera on Wednesday afternoon while discussing the RNC's threats to not participate in CNN and NBC debates during the 2016 presidential election due to "slanted" coverage.
When asked by Rivera whether he agrees with the threats, Paul said:
"You can look back to the last primary season and you wonder whether there was collusion between some reporters. You know, Stephanopoulos asks an obscure question about Griswold and birth control when no Republicans were bringing up anything about trying to put limits on birth control. […] I'm in favor of the Griswold decision because I am in favor of privacy. But the thing is, it was a weird thing to bring up in a debate, and nobody understood why. But then for two years, the President's campaign then ran ads saying that the Republicans were against people allowing birth control. So you wonder if there was a concerted action between a former Democrat operative and basically the President's campaign."
"Are you alleging that George Stephanopoulos was a Democrat plant during the [February 2012 ABC News] debate?" Rivera asked in response.
"It makes you wonder," Paul replied. "He's also said publicly that he has frequent correspondence with his friends who are still involved with the White House."
The ultimate question, the Kentucky senator said, is whether Republicans can reasonably expect a "fair shake" in televised debates when some of the moderators are "people who used to and still do have active contact with the active Democrat Party."
Listen below, via WABC:

[h/t
NewsBusters
]
— —
>> Follow Andrew Kirell (@AndrewKirell) on Twitter
Have a tip we should know? tips@mediaite.com