RealClearPolitics Looks Into Undisclosed Information In NYT Natural Gas Story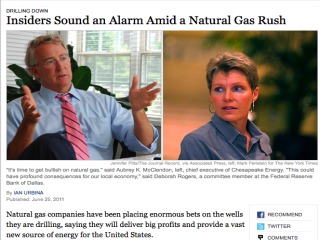 RealClearPolitics' Jon Entine has taken the New York Times to task over a front page story, by reporter Ian Urbina, on the natural gas industry that the paper recently ran in its Sunday edition. That faint rumbling you hear is the sound of many Mediaite commenters drumming their fingertips together, Mr. Burns-style.
The NYT piece, "Insiders Sound an Alarm Amid a Natural Gas Rush," features quotes from 10 sources who hold a negative view regarding "the prospects for natural gas production from shale." Eight are kept anonymous. The two who are named, reveals Entine, have backgrounds that bring up questions regarding the journalistic standards at play in the NYT newsroom. For instance, the article quotes Houston-based geologist Art Berman:
What didn't the Times disclose? Berman has direct and indirect financial ties to a range of critics of shale gas. For example, In January, Berman testified as a paid expert witness before the Indiana Utility Regulatory Commission in support of Indiana Gasification, a unit of Leucadia National Corp., detailing the benefits of buying natural gas made from coal instead of hydraulic fracturing. The coal industry fears getting crushed by the cleaner, natural gas movement, and Berman backed coal.
"Did Berman," Entine wonders, "tell his strategic partners and clients, and directly profit from the Times story?"
The other named source is a woman named Deborah Rogers, a former model who left the fashion industry to work as an assistant at a one-person firm in London, later working as a stockbroker for Merrill Lynch. She now makes artisanal cheese and is described by the Times as a member of the Federal Reserve Bank of Dallas' advisory committee and as a bank "commissioner." But the article again did not disclose several key details about Rogers' work:
Urbina also did not disclose that Rogers has been fighting the natural gas industry — and Chesapeake Energy in particular — tooth and nail for years. She is on the steering committee of the Oil and Gas Accountability Project at Earthworks, an anti-shale-gas advocacy group, and lectures around the country. In Urbina's story, in her public appearances, including on CNBC, and in her interview with me, she indicated she became an activist by accident. Urbina quoted her as "studying well data from shale companies in October 2009 after attending a speech by the chief executive of Chesapeake [Energy]," the central target of the Times' piece.

What's not reported is that this was hardly a serendipitous event. Throughout 2009, Rogers had tangled with Chesapeake, which has a well near her Texas farm. That spring, she commissioned a study by Wolf Eagle Environmental Engineers and Consultants that tried to prove that gas production was causing air pollution, endangering her farm.

In response to the complaint, the city of Fort Worth commissioned its own study, released that August. It dismissed her allegations, saying Wolf's study was "rudimentary in scope and design," adding, "Discussions of chemical hazards in the documents reviewed were generally exaggerated and speculative, not representative of the hazards posed by the actual concentrations of compounds detected." Ironically, a year later Rogers was cited for failing to conduct bacterial testing of well water at her farm, paid a fine and received 12 months' probation.
For more, read Entine's full article at RealClearPolitics.
Have a tip we should know? tips@mediaite.com