Religion Author: Criticism of 'Pajama Boy' Both 'Fascistic' and 'Anti-Semitic'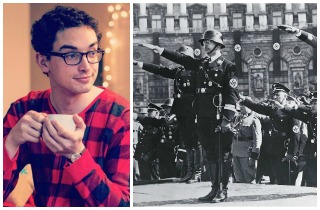 The White House's pajama-clad messenger for the benefits of the Affordable Care Act, fast dubbed "pajama boy," became a cultural touchstone in the weeks leading up to the Christmas holiday.
Conservatives heaped scorn on the viral campaign centered around "pajama boy," noting that the onesie-wearing man in his late 20s was the perfect messenger for an ideology that advocates perpetual infantilization and virtually parental government. Liberals balked at this characterization, but few have crystalized why conservative critiques of this particular public relations campaign are problematic as effectively as university teacher, author, and columnist Dr. Jay Michaelson. He dropped the other shoe over the weekend when he took the argument over "pajama boy" to its logical conclusion: criticism of this oversized child is clearly rooted in bigotry.
"How could such a milquetoast political campaign attract so much vitriol?" Michaelson, a prolific author and religious studies educator who has taught at such prestigious institutions as New York University, Boston University, and Yale University, asked in the Jewish opinion journal, Forward.
After asking this pointed question, Michaelson did not take long to answer it. He noted that "pajama boy" is, in reality, Ethan Krupp. Krupp is an Organizing for Action volunteer, a self-described "liberal f***," and, above all, Jewish.
Indeed, Krupp is "semiotically Jewish," Michaelson wrote. "Even stereotypically so."
"In fact, Pajama Boy stands at a centuries-old nexus of anti-Semitism and misogyny," he continued. "The Jew is the Other is the Effeminate is the Liberal. He is the urbanite, the parasite, the usurer, the lawyer. His effeminacy corrupts the Volk or the Heartland or the real American values. He wouldn't know how to drive a pick-up truck if it was on cruise control. And he definitely votes for Obama."
"Whether or not the Pajama-Boy bashers are unconsciously anti-Semitic or not, I don't know," Michaelson charitably concludes. "That fascistic outlook has long been a part of far-right conservatism."
Real men are strong, and the weak don't deserve our pity. Let them get sick for lack of healthcare; they probably deserve it. And as for women, and the parasitic "Jewish" men who resemble them? They are to be suppressed and domesticated, not empowered. Patriarchy is good. Sexism is natural. Get out of your onesies, America. And put on your jackboots.
Far from inspiring healthy debate, aggressively asserting that critics of this glorification of perpetual adolescence have essentially embraced National Socialism in precisely the form preached by Goebbels does nothing but stifle dialogue. Given the tone of Michaelson's screed, one gets the impression that shutting "pajama boy's" critics up was, in fact, his intent.
h/t Weasel Zippers
[Photo via OFA/Wikipedia]
— —
> >Follow Noah Rothman (@NoahCRothman) on Twitter
Have a tip we should know? tips@mediaite.com