Rep. Clyburn: Palin Is "Attractive" And "Articulate" But Lacks Intellect To Understand Arizona Shooting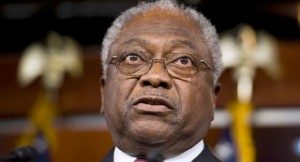 In the wake of Sarah Palin's video address dealing with the Arizona shooting, it was easy to predict that her controversial "blood libel" reference would generate passionate reaction from many. Without much delay, Assistant Minority Leader in the House, Representative James Clyburn, offered up his instant reaction to the comment on a radio show with liberal host Bill Press that is likely to stir up some controversy of its own.
Press asked Clyburn to respond to Palin's comments that pundits have manufactured a "blood libel" by trying to find someone to blame for the shooting and Clyburn responded:
"Sarah Palin just can't seem to get it – on any front. I think that she's an attractive person. She is articulate. But I think intellectually she seems not to be able to understand what's going on here."
Strangely, before Clyburn delivered his blow to Palin's intellect, it seemed he thought he was actually complimenting her by calling "attractive" and "articulate." Such dismissive words once got Vice President Joe Biden into trouble when he referred to President Barack Obama as "the first mainstream African-American who is articulate and bright and clean and a nice-looking guy."
Clyburn also discussed his days living through segregation and his worry that he sees the violence from that era as likely to repeat itself given the violent rhetoric he now hears. Clyburn concluded saying, "all of us in public office oughta be very careful about what we say and how we say it." If that's the advice Clyburn wants to promote, then when the Congressman gets a chance he might want to share it with himself.
Listen to the audio from The Bill Press Show below:

Have a tip we should know? tips@mediaite.com