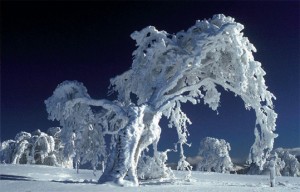 From the Northeast to the Northwest, the country is cleaning up and dealing with snow today. Florida is the lone exception, as it remains snow-free. Concerns over nasty commutes and dangerous roads have people worried, and newspaper editorials this morning captured the fear, anger, and good will that Americans are experiencing in the face of the bad weather. Here, a selection of how different states are coping:
Chicago – We're used to this: "There's no excuse for the snow excuse. Not in Chicago," says Mary Schmich in the Chicago Tribune. My students will get "no mercy from me" if the show up late, citing the "winter gulag" as their explanation. "When it's snowing, a true Chicago comrade gets out early, scrapes and curses, slips and slides and shows up on time anyway." Just another day here.
Kansas City – We fixed our snow problems: In the past, "nothing has highlighted the city's shortcomings…like slippery main arteries and washboardlike side streets," says a Kansas City Star editorial. "But Kansas City appears to have handled this winter's first major storm nicely, thanks to a combination of preparation and luck." The "$250,000 added to the total snow removal budget" seems to have paid off with side streets getting plowed sooner than usual. With the "government under pressure to look capable and efficient," snow officials have delivered.
New York City – We're still upset about inefficiency: We're still not over the last storm, says a New York Daily News editorial. The Bloomberg administration has admitted that "mistakes were made," and "the seriousness of the consequences" from the slow snow removal. But they "failed to shed light on the key question: Why was the city's storm response suddenly so abysmally ineffective?" No matter who was responsible, they've begun to fix the problem, starting with giving plow drivers radios "so they can report conditions from the field."  What an "advance" now.
Louisville – We showed unity: As we heard about the tragedy in Tucson, in Louisville we "were reminded that the good in people can shine even on the darkest of days," says the Louisville Courier-Journal in an editorial. "Never mind that Saturday morning dawned with frigid temperatures chilling the air and snow and ice encrusting the ground," citizen volunteers came out for "community involvement" efforts. Volunteers "helped to light a candle that shone throughout the darkness of the weekend's bad news." And though this "may not change the tenor of the national discussion about violence of language and deeds," it "does offer a truthful, powerful and parallel narrative" about Americans.
Have a tip we should know? tips@mediaite.com