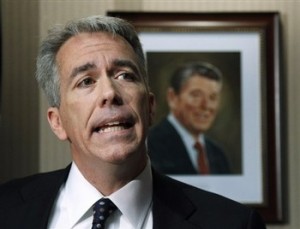 Rep. Joe Walsh was one of the latest to chime in on the increasingly frenzied controversy surrounding Rep. Todd Akin's remarks about "legitimate rape" and abortion. While Walsh agreed that Akin's words were "offensive," he said he was "bothered" by the GOP response.
RELATED: Todd Akin Leaves Open Possibility Of Stepping Down: 'I Don't Know The Future'
"What he said was offensive, insulting and wrong, but I'm bothered by this rush to pile on," Walsh said in a comment picked up by The Huffington Post. "And I'm bothered by the silence of members of our own party to stand up for him."
Fellow Illinois Rep. Peter Roskam said that there's no one who's saying Akin is "immoral or incapable" — and that this is an opportunity the Republican Party should not pass up.
Per Elmhurst, Ill. Patch:
"There's nobody who is saying Todd Akin is unworthy to serve," Roskam said. "There is no one saying he is immoral or incapable. He's not; he made a poor decision. The question is: Can he win in November? … This is an election about a generational change. If we sqander this one opportunity we have, we will all look back and say: 'Oh, if only.'"
"Let's make the good guys back in control," Roskam added. "What do you say?"
Walsh has been in the minority with his opinion, with high-profile Republicans — ranging from Reince Priebus to presumptive presidential nominee Mitt Romney himself — urging Akin to step out of the race. On Tuesday, Akin adamantly said he's staying in. But appearing on Good Morning America on Wednesday, Akin said, "I don't know the future" — adding, "It makes me uncomfortable to think that the party bosses are going to dictate who runs as opposed to the election process. I believe in that principle."
(H/T HuffPost)
Have a tip we should know? [email protected]