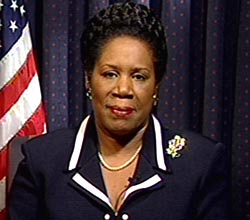 Rep. Sheila Jackson Lee (D) of Texas is, understandably, upset over the attack and sexual assault sustained by Lara Logan as the CBS correspondent covered celebrations in Cairo's Tahrir Square. Unlike other politicians and media figures who have spoken out about the attack, however, Jackson Lee has a unique proposal: She wants the Egyptian government (she's unclear about whether she specifically means ousted president Hosni Mubarak's former government) to issue an explanation for the attack – which, according a recent report from Britain's The Daily News, was at least partially instigated by reports Egyptian state-run media claiming foreign journalists covering the revolution were Israeli spies.
Lee Jackson then called on the the U.N. ambassador from Egypt to apologize not only to Logan, but also to the American people.
The Hill has Jackson Lee's address to her fellow members of Congress:
As you watch the conflict in Egypt, where we celebrated what happened, but many of you are aware of the tragedy that happened to one of our American reporters, Ms. Logan.

The United Nations is where we can call upon the Egyptian government to explain themselves and to apologize, and call upon the U.N. ambassador from Egypt to apologize to Ms. Logan and apologize to the American people for the tragedy that happened to this woman who was doing her job — the sexual assault, the vicious sexual assault that occurred to her.
She also argued against de-funding the U.N., opining that the organization could help broker "other disputes between countries."
h/t The Hill
Have a tip we should know? tips@mediaite.com