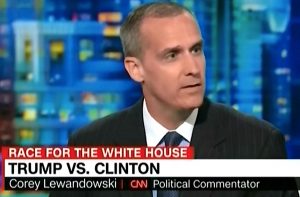 Paid CNN contributor Corey Lewandowski, the man who once acted as Donald Trump's campaign manager, went to surprisingly great lengths to hide the fact that he flew with the mogul's campaign Saturday.
Earlier today, Lewandowski was photographed in Newark, NJ as he disembarked from Trump's plane. While the weather was mild throughout most of the day, Lewandowski was seen wearing hood drawn far down over his face.
Lewandowski just got off Trump's plane with a hood pulled down way over his face pic.twitter.com/l9bgU1sPpC

— Ben Schreckinger (@SchreckReports) October 15, 2016
Multiple reporters confirmed that Lewandowski was in the middle of Trump's entourage as the real estate mogul flew to several events he held this weekend on the East Coast. Lewandowski's presence on Trump's plane is odd, given that media personnel don't usually get to stay within his inner circle while traveling. Ever.
Just saw Corey Lewandowski jump into the Trump motorcade. Must have come along from NH. It's like the old days.

— John Santucci (@JTSantucci) October 15, 2016
Spotted getting off Trump's plane at Newark: ex-campaign manager Corey Lewandowski, who traveled with Trump from NH rally to Maine to NJ

— Jeremy Diamond (@JDiamond1) October 15, 2016
CNN contributor Corey Lewandowski just got off Trump's plane here in Newark. Been with him all day.

— Sopan Deb (@SopanDeb) October 15, 2016
That's CNN contributor Corey Lewandowski, by the way. https://t.co/AOgmK3sjim

— Sopan Deb (@SopanDeb) October 15, 2016
Former CNNer Soledad O'Brien noted that the arrangement was odd, and had was cause for several concerns regarding journalistic ethics.
This is pretty unusual. Generally speaking, a networks's Standards and Practices team would not be okay with this: https://t.co/NEmPhgXJyP

— Soledad O'Brien (@soledadobrien) October 16, 2016
Lewandowski has been a paid commentator and expert on the Trump campaign for months on CNN, since he was fired from his previous job back in June. The network's decision to hire him has been a persistent subject of controversy.
Beyond Lewandowski's unfriendly history with reporters, some felt that it was a conflict of interest that he spent months doing commentary on Trump while he still received severance payments from the mogul's campaign.
Lewandowski is still known to be in contact with the Trump campaign, and has reportedly offered support in multiple capacities.
Mediaite has reached out to CNN for comment.
[Image via screengrab]
— —
>> Follow Ken Meyer (@KenMeyer91) on Twitter
Have a tip we should know? tips@mediaite.com