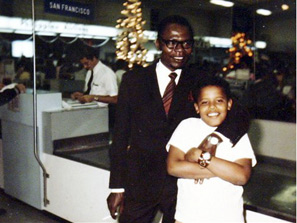 Document-a-palooza continues. As you are likely all too aware, continued interest in the birther issue – especially by the movement's veritable poster boy, Donald Trump – culminated in the White House releasing President Barack Obama's long-form birth certificate. The media spotlight then reflected back onto Trump, revealing that he may have dodged the draft.
Now, it appears there is yet another series of documents set to make the media rounds: Apparently, Obama's father, Barack Obama Sr, was forced to leave Harvard University before completing his Ph.D in economics because the school had concerns about his personal life. One memo states that the school's administrators were "having difficulty with his financial arrangements and couldn't seem to figure out how many wives he had."
The Immigration and Naturalization Service was asked by the school to delay the elder Obama's request to stay in the United States. INS immigration official M.F. McKeon wrote in a June 1964 memo that the the school was deciding "what action they could take in order to get rid of him" and that "they are planning on telling him that they will not give him any money, and that he had better return to Kenya and prepare his thesis at home." And, evidently, Harvard was successful in its efforts:
In May 1964, David D. Henry, director of Harvard's international office, wrote to Obama to say that, while he had completed his formal course work, the economics department and the Graduate School of Arts & Sciences didn't have the money to support him.

"We have, therefore, come to the conclusion that you should terminate your stay in the United States and return to Kenya to carry on your research and the writing of your thesis," Henry's letter stated.

Obama's request for an extended stay was denied by the INS. He left Harvard and — divorced from the president's mother — returned to his native Kenya in July 1964. He did not complete his Ph.D.
The documents were given to a Boston Globe reporter back in 2009 through a Freedom of Information request and were first made public this week by The Arizona Independent.
Harvard has said that it cannot verify the documents, but did say that, at the time Mr. Obama attended, "the school faced serious constraints in financing research by international graduate students."
h/t AP
Have a tip we should know? tips@mediaite.com