Report: Eric Holder To Blame Congress For 'Flawed' Fast And Furious Operation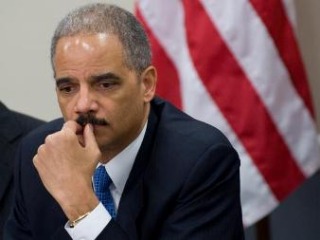 As the mission to determine what (and when) Attorney General Eric Holder knew about the White House's "Fast and Furious" gun walking operation continues, Holder is prepared to denounce the entire operation and shift blame to Congress for not having adequately supported the Bureau of Alcohol, Tobacco, Firearms and Explosives.
According to statements prepared for this morning's meeting with the Senate Judiciary Committee, Holder will say that ATF agents have complained that their division "suffers from a lack of effective enforcement tools," and that a "critical first step should be for congressional leaders to work with us to provide ATF with the resources and statutory tools it needs to be effective," adding that the House of Representatives "actually voted to keep law enforcement in the dark in the dark when individuals purchase multiple semi-automatic rifles and shotguns in Southwest border gun shops."
Moreover, FoxNews.com reports, Holder is prepared to denounce the entire operation as "unacceptable" and "flawed:"
In his opening remarks Tuesday, Holder is expected to say "any instance of so-called 'gun walking' is unacceptable," and he will say "Fast and Furious" was "flawed" and "should never have happened."

"Unfortunately, we will feel its effects for years to come as guns that were lost during this operation continue to show up at crimes scenes both here and in Mexico," he will say, according to the prepared remarks. "It must never happen again."

While Holder will apparently refer to "headline-grabbing Washington 'gotcha' games and cynical political point scoring," it's unclear if in his opening remarks he will address accusations that he may have misled Congress in May over when he first heard of "Fast and Furious."
RELATED: Report: Congressional Investigators Prepare To Subpoena Eric Holder Regarding 'Fast And Furious'
Holder, you'll recall, received a subpoena in early October in an effort to determine whether and how much he and others within the Justice Department knew about the botched "gun walking" operation. He had also been the focus of research conducted by CBS News investigative journalist Sharyl Attkisson, who shared with the media that she had been given the runaround by Holder's office when trying to get the Atrorney General to clarify the timeline of his knowledge regarding the operation.
h/t FoxNews.com
Have a tip we should know? tips@mediaite.com