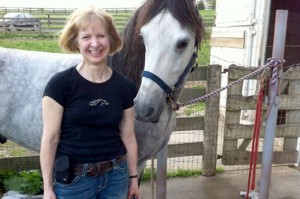 News Corp's iPad-only news outlet The Daily has outed one of the two original Herman Cain accusers as Karen Kraushaar, a communications director for the U.S. Treasury's Office of the Inspector General For Tax Administration. According to The Daily, Kraushaar is the accuser, represented by attorney Joel Bennett, who recently decided not to go public with details of her complaint. The Drudge Report is already stressing an Obama administration connection with the headline "UNNAMED CAIN ACCUSER WORKS IN OBAMA ADMINISTRATION…"
The Daily's report makes no mention of the Obama administration, and is pegged to friends and relatives attesting to Kraushaar's reliability:
"She wouldn't be the type to make false allegations," brother-in-law Ned Kraushaar, a Georgia software consultant, told The Daily. "This happened [more than] 10 years ago. It's not like she wanted to try and hurt the Republican Party."

Karen Kraushaar currently serves as a communications director at the Inspector General's Office of the Treasury Department, a position she has held since last year. She did not return phone messages left by The Daily.

She is "an extraordinarily good person," said Jennie Williams, a friend and Atlanta equestrian. "She is very reliable and has lots of integrity. I don't know what happened. I don't want to know. Enough is enough. She is quality."
The revelation of Kraushaar's identity could be a major game-changer in the ever-unfolding Herman Cain saga. Stripped of her privacy, Kraushaar may very well decide to come forward after all, and at the very least, this further complicates the press conference that Cain has scheduled for later today.
While Drudge appears to be the first, he probably won't be the last to highlight the superficial connection between Kraushaar and the Obama administration, but Kraushaar's boss, Treasury Inspector General for Tax Administration J. Russell George, is actually a Bush administration appointee.
That fact won't likely stop some conservatives from piling on Kraushaar, or even spinning insane conspiracy theories, and Kraushaar is in for a mountain of unwanted attention from the mainstream media, as well.
Have a tip we should know? tips@mediaite.com