REPORT: ExxonMobil Did Business With Iran and Syria While Rex Tillerson Was Top Exec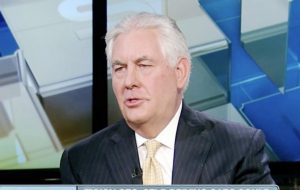 According to a report by USA Today, Secretary of State nominee Rex Tillerson is sure to be asked about ExxonMobil's business dealings with Iran, Syria and Sudan last decade while those countries were under US sanctions.
Securities and Exchange Commission filings show that while Tillerson was a top executive with the company in 2003-05, the company conducted sales with these three countries even though at that time they were being sanctioned over their roles in state-sponsored terrorism.
However, ExxonMobil is defending the transactions because they were done via a European subsidiary and none of the transactions involved American employees. The SEC filings show that ExxonMobil did $53.2 million in sales to Iran, $1.1 million to Syria and $600,000 to Sudan.
Since the company brings in hundreds of billions of dollars in revenue annually, ExxonMobil addressed the concern to the SEC about why they didn't disclose these transactions to shareholders saying "these transactions are not material by any reasonable measure."
A media manager for ExxonMobil gave the following comment to USA Today on the transactions:
"These are all legal activities complying with the sanctions at the time," Alan Jeffries, media manager at ExxonMobil, told USA TODAY. "We didn't feel they were material because of the size of the transactions."

"They (Infineum) have an independent management that operates the entity. And it's not a U.S. entity," Jeffries said.
Per the paper, Tillerson became senior vice president of the company in August 2001, president in March 2004 and CEO on January 2006.
A confirmation hearing in front of the Senate Foreign Relations Committee will take place Wednesday morning.
[image via screengrab]
–
Have a tip we should know? tips@mediaite.com