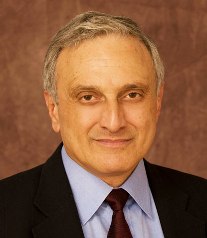 For political bloggers (and Andrew Cuomo supporters), New York gubernatorial candidate Carl Paladino is the gift that keeps on giving. The latest news? According to the New York Daily News, Paladino's son co-owned Cobalt, a gay nightclub in downtown Buffalo, from May 2004 to July 2006. Cobalt was located in a building owned by the GOP nominee.
This wouldn't exactly be news, if not for the homophobic remarks Paladino made last Sunday (and continued to make while ostensibly apologizing to the gay community on Monday).

As Ben Yakas of Gothamist puts it: "Carl Paladino has a serious problem with grown men jiggling and grinding against each other in bikini-type outfits. But only in public, see? Because he has no problem with them doing it inside the confines of a club"—as long as they're paying rent.
To make matters worse (better?), Cobalt wasn't the only gay establishment helping to pay Paladino's bills earlier this decade. The Daily News says that Buddies II, a bar billing itself as a place where "anyone and everyone is welcome (and) prejudices are left at the door," also had its home in a Paladino-owned building from 2005 to 2006.
All of this raises an interesting question: is being a hypocrite better or worse than being an overt homophobe? Maybe we should ask Ann Coulter, who was one of the few people defending Paladino earlier this week. According to Coulter, Paladino didn't mean to attack all gay people; instead, he was only targeting "gay left-wing activists." Ah, there's the explanation: all of Cobalt and Buddies II's patrons must have been homosexual members of the GOP!
Have a tip we should know? tips@mediaite.com